Greg Hatza is One of My Musical Heroes :-)
By Sean Fenlon on May 24, 2017
---
Greg Hatza is a chronic over-achiever – in EVERYTHING that he does, from Jazz music to Classical music, to his knowledge of the music of non-western cultures, to Tai Chi, to Martial Arts, and everything in between. He is absolutely one of my heroes.
I first met Greg as a music student at Towson University in 1986. Greg was a member of the music faculty at Towson after graduating from The Peabody Institute of Music (yes, you should hear him play Chopin :-O) and also earning a Masters Degree in Jazz Composition from Towson. Far more details about Greg's back-story here:
http://greghatza.com/greg-hatza-bio/
http://greghatza.com/greg-hatza-resume/
I was a bassoonist at the time – well, because it was a chick magnet – but Greg mercifully took me on as a private jazz piano student nonetheless. I was really REALLY bad. Just ask Greg. :-S
But my progress and trajectory didn't matter to me – my private lessons with Greg allowed me to sit right next to him each week as he improvised for me.
I had never experienced anything like it. It was like magic. Wizardry.
It was like he was composing songs and forms in real-time – sometimes when a quarter note = 300 bps. :-O
Private lessons were always on a Grand Piano in his studio where Greg would speak with great admiration about the great Oscar Peterson, but he also used to talk a good bit about his past on a Hammond B3 Organ.
I knew very little about the B3 (except what I had heard on Rock recordings from Boston, ELP, Deep Purple, etc.), but Greg would describe in great detail the influence of the B3 on his early years growing up in PA – particularly the influence of Jimmy Smith.
I was incredulous to learn that Greg had self-taught himself Jazz B3 Organ playing by listening-to and observing Jimmy Smith all the way to a level of achieving a RECORD DEAL as a TEENAGER. :-O
Greg recorded "The Wizardry of Greg Hatza" and "Organized Jazz" on Coral Records with Grady Tate on drums, Eric Gale on Guitar and Greg exclusively on the Hammond B3 Organ.
One day at Towson University, Greg mentioned that he had met Hammond B3 Organ player Joey DeFrancesco and felt inspired to begin performing on B3 again after a long hiatus from the instrument.
I vividly remember his first gig returning to the B3 at the Student Union in Towson University:
Greg Hatza – Bandleader & Hammond B3 Organ
Paul Bollenbach — Guitar
Jim Snidero – Alto Sax
??? – Drums (apologies for not remembering)
This performance changed my life. I had never heard anything like it. Paul and Jim are amazing improvisers, but seeing Greg Hatza come alive on the organ for the first time was beyond words.
After this return-to-the-B3 gig, the "Greg Hatza Organization" became a regular performing group in the Baltimore area. Perhaps his most frequent – and probably his favorite – venue was The New Haven Lounge near the Morgan State University campus in Baltimore. This jazz club was owned/run by the Covingtons who were long-time jazz supporters, and particularly B3 Organ players. This club was less than 1 mile from my first house, and I would sneak down by myself and attend every "Greg Hatza Organization" performance for years. It was like a drug to stand behind Greg during his improvisations. Greg once compared soloing on a B3 to a preacher delivering a homily and bringing the audience with him through the shape and form of the story. I felt entranced by the stories he would tell on the B3.
I recently came across this video from 2005 at The New Haven Lounge posted by saxophonist Peter Fraize:
https://youtu.be/h1ueCWHlGcQ?t=7m34s
I couldn't stop watching it, so I posted it on Greg Hatza's Facebook page.
I also sent it to Cory Henry via Twitter, who thanked me for it. :-)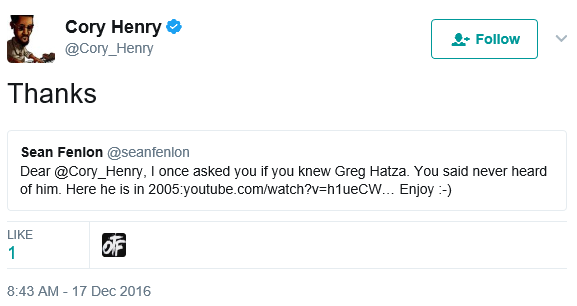 I stayed friends with Greg after graduating from Towson and heading to Peabody. I even built his first website for him on www.GregHatza.com (which has recently and wonderfully been redesigned).
Greg's influence on me as an improviser is beyond words.
Because of Greg, I recently started building a YouTube Playlist of all Jimmy Smith B3 Performances:
https://www.youtube.com/playlist?list=PLB1U1i4s5W1yXo-sQ95DtgvJSN_4hifpX
The more I hear Jimmy Smith, the more I hear Greg's modern re-imagination of this master.
I have also assembled over 20 YouTube videos of Greg Hatza Organ performances on a Playlist:
https://www.youtube.com/playlist?list=PL855AD5D67452234A
In my own piano/keyboard playing (virtually none in the past 20-years), I aspired to just one thing… walking a bass line with my left hand the same way Greg could. I never developed great skills as an improviser or technician, but by developing a walking bass line, I could play alongside OTHER great improvising musicians.
Last year I was rewarded for learning this skill from Greg when I had the chance to perform with Kyle Coughlin in front of LA Reid at a "Private X-Factor" as part of a YPO event of which I am a member of the DC/Baltimore Chapter:
https://www.youtube.com/watch?v=AMoW8wF97YI
https://www.youtube.com/watch?v=Xas5cfYd6tg
(BTW viewers of these videos don't worry – I've dropped the extra 35 pounds since then :-)
YPO is a professional/business organization, but I do not believe that Music is – or ever has been – a business or an industry.
I wrote an article in 1999 that continues to reflect my feelings and philosophy on this topic to this day:
http://www.seanfenlon.com/sean-the-musician/sean-the-composer/state-music/
In conclusion:
Greg Hatza is one of my Musical Heroes, along with Don Ellis, Hank Levy, Bobby McFerrin, Snarky Puppy, and Jacob Collier.
I will forever be Greg Hatza's self-proclaimed biggest fan. :-)
SPF
p.s. Apology to Greg Hatza

I recently posted on Greg's Facebook page: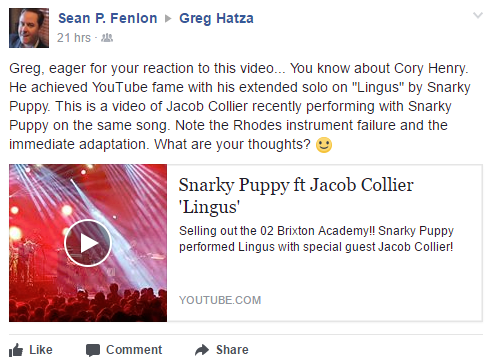 https://www.youtube.com/watch?v=2kAf2S9s7wY&t=300s
My intent was to introduce one of my musical heroes to another one of my musical heroes.
As noble as my intentions were, it was a poor choice on my part to introduce Jacob Collier to Greg Hatza with this particular selection.
This performance is from Snarky Puppy – a band I have come to admire a great deal:
http://www.seanfenlon.com/2014/the-michael-league-group-aka-snarky-puppy/
I even publish the http://www.SnarkyPuppyMusic.com website.
The first Snarky Puppy song I was exposed to was "Lingus" from their We Like it Here release:
https://www.youtube.com/watch?v=L_XJ_s5IsQc
I like the song well enough, but I was blown away by the extended keyboard solo by Cory Henry. It was a long slow build in intensity and created an emotional response that I had not experienced since witnessing extended solos by Greg Hatza (more on this at the top of this post).
I even dragged my wife and three young kids (grudgingly) into the basement to watch this video the morning after I watched it for the first time.
I had the privilege to be in the audience during this 2015 live Snarky Puppy recording:
http://www.seanfenlon.com/2015/snarky-puppy-family-dinner-volume-2-live-recording/
This recording was my first exposure to 20-year-old (at the time) Jacob Collier:
http://www.seanfenlon.com/2016/about-jacob-collier-jacobcollier-com-and-dont-you-know-from-snarky-puppy-family-dinner-volume-2/
Since then, I have come to know Jacob Collier and his art quite well. I have come to genuinely believe that Jacob Collier is the single most talented musician walking the planet, and his manager/producer/biggest-fan Quincy Jones apparently agrees with me:
http://www.abovo42.com/seanfenlon@gmail.com/49006
The video I posted to Greg Hatza's Facebook page was a cameo appearance with Snarky Puppy where Jacob takes the long extended keyboard solo demonstrating insane technical wizardry. When I think of super-human technical wizards on keyboards, B3 organs, and piano, I think of Greg Hatza, which is why I immediately thought to share the video with Greg.
BIG MISTAKE on my part. Poor Choice. My apologies to you Greg Hatza.
Not long ago, Greg wrote an incredible post on Facebook about music:
https://www.facebook.com/greg.hatza.3/posts/1134968609940967?pnref=story
The post is quite convincing in its mission of challenge young technical musicians to incorporate more feeling, expression, soul, and space into their technical fireworks. I was so moved by his post that I shared it on my own Facebook page. Yet, what video did I chose for introducing Greg Hatza to Jacob Collier?… One filled with rhythmic and technical fireworks. :-S
I can do better.
Obviously, it did nothing for Greg and I should've known better.
In retrospect, I should've introduced Greg Hatza to Jacob Collier with other selections such as these:
Jacob's own orchestral arrangement of his song "In The Real Early Morning" from his debut recording In My Room – some of the most expressive writing and performing I've ever heard (that's his Mom in the violin section that they keep zooming in on):
https://www.youtube.com/watch?v=OFVVRyFH1vs&list=PLB1U1i4s5W1xbtQdtrVkry4Hk2JrDroj6&index=16
His light stylings on the Celeste are the polar opposite of unleashing technical wizardry like he did with Snarky Puppy on "Lingus."
Or perhaps I should've shared the interlude section of his song "Hideaway" from In My Room – quite simply some of the most beautiful music I've ever heard in my life:
https://www.youtube.com/watch?v=4v3zyPEy-Po&index=4&list=PLB1U1i4s5W1xbtQdtrVkry4Hk2JrDroj6&t=208s
In order to demonstrate Jacob Collier's incredible sense of Soul and Joy, I should've considered presenting his acapella performance with Take 6 of his arrangement of Stevie Wonder's "You and I" – an arrangement that won one of TWO Grammy Awards for his In My Room recording (the other being his arrangement of The Flintstones – yes, rhythm changes ;-):
https://www.youtube.com/watch?v=cAoqM6YICMM
p.s. to Greg – I suspect you'll enjoy the band Snarky Puppy and the song "Lingus" when you see the extended solo performed by (perhaps the greatest wind player walking the planet) Chris Potter:
https://www.youtube.com/watch?v=zzdXCQTIBSc
---