THREE PILLARS of Lead Generation
By Sean Fenlon on March 22, 2007
---
Probably more than anything else, the folks at DoublePositive think about leads.
The word "leads" means different things to different folks, but typically the word "leads" is referring to "sales leads."
Sales leads vary greatly by industry and by quality. However, after 10+ years in lead generation, I believe I have cracked the code on how to quantify the overall performance a "sales lead"
It's actually quite simple to visualize – think of the overall performance as a table top, and Quality, Quantity, and Cost being three legs of the table that must be in balance to prevent the performance-table-top from tipping over.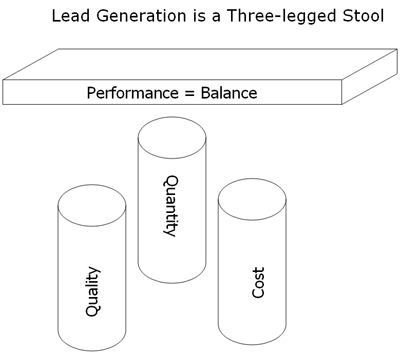 Please review the diagram above and the attached DoublePositive white paper titled The Keys to New Business – Quality, Quantity & Cost, originally published by Scotsman Guide.
---