DoublePositive Moves from Tide Point to Canton Crossing
By Sean Fenlon on February 28, 2008
---
Like the old song goes, "Tide Point, We Hardly Knew Ya."
Tide Point was originally a Proctor & Gamble soap factory built during the great depression. During the dot com era, the complex was converted into high tech office space and has been the home of many great Baltimore tech companies including Advertising.com, e.magination, TheLoanPage.com, Carchex, Velaro, Under Armour, Blue Sky Factory, and of course, DoublePositive.
Today marks the end of an era. Today we officially move our corporate headquarters from Tide Point to Canton Crossing. Canton Crossing is the manifestation of a vision of Baltimore's own Ed Hale. A Baltimore native, Ed Hale is the Chairman and CEO of First Mariner Bank (the primary tenant at Canton Crossing), but has a long and distinguished track record in Baltimore real estate development and several other key Baltimore-related initiatives.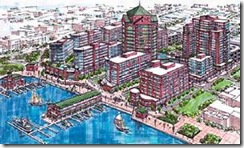 We will be perched atop the only high-rise office building outside of downtown Baltimore on the 15th floor and overlooking the Baltimore Harbor and with a breathtaking view of Fort McHenry.
While we will miss our Tide Point neighbors, we are thrilled to become better acquainted with our new neighbors in Canton Crossing, including 1st Mariner Bank, ATK, CareFirst, Coldwell Banker, Comcast, Della Rose's, Hale Properties, Merritt Athletic Club, and Thomson Prometric. We'll also be just a stone's throw away from some of Baltimore's other premier high-tech startups including Millennial Media, Social Solutions, and TidalTV.
This is the beginning of a new era for DoublePositive. A new office does not make for a better company unto itself; however, it can represent the reflection of startup growing into a mature adult. You should expect great things to be reported as we go about writing this next chapter in our development.
We are more than eager to show off our new digs, so please contact us to schedule a visit or just drop by. The new address is:
1501 S. Clinton St.
Suite 1520
Baltimore, MD 21224
We hope to see you there soon.
SPF
---