The Redeem Team
By Sean Fenlon on August 25, 2008
---
I witnessed history, again.
This time, I saw the USA win the gold medal in men's basketball. I had to stay up til 4am EST to do so! :-S
Great win, guys. Seriously.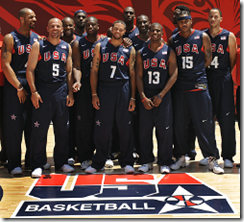 A gold medal win is a gold medal win.
That said, it's back to practice on Monday morning for London in 2012.
Seriously… Here's what we need to work on:
Better defense against the pick-and-roll. OMG, please!
Better half-court offense play (I'm not sure I saw one well-run and PLANNED half-court offensive play in the second half)
Better inside play — never be out-rebounded in a gold medal match again
You do these three things, you'll win.
It's that simple.
I guarantee it.
SPF
---