And So It Begins… Google Sells Leads
By Sean Fenlon on October 30, 2009
---
Google now provides mortgage rates to consumers and sells mortgage leads to originators.
https://www.google.com/comparisonads/mortgages#ti=0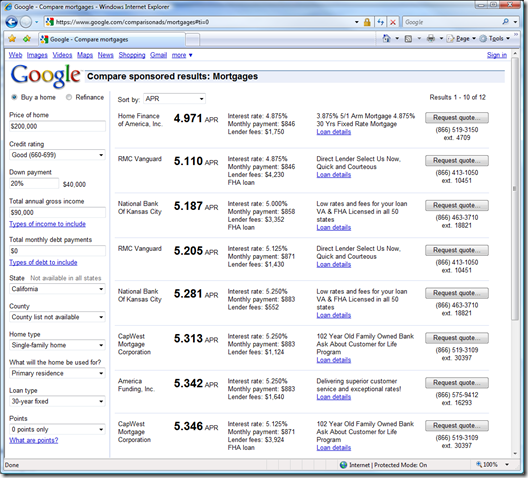 I know this new development may be disruptive and concerning to many of our friends in the mortgage lead selling space. For those of you outside of the mortgage industry, this event is just as important. Google often tests products in a single vertical, but ultimately rolls out products horizontally to ALL verticals. If Google makes money selling mortgage leads while providing a valuable service to consumers, Google will soon also sell Education leads, Insurance leads, Automotive leads, etc.
Clicking the "Request Quote" button invokes the SIMPLEST lead capture form I've ever encountered in 15 years of lead generation. See for yourself: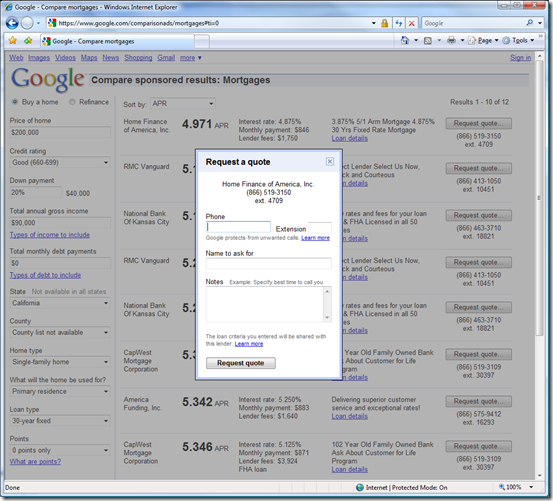 We've been following this now-official development for some time.
Greg Sterling posted screenshots in early 2008 from the UK market that portend what we see today:
http://gesterling.wordpress.com/2008/05/30/google-mortgage-search/
We know Mortech is the backend technology from LeadCritic:
http://blog.leadcritic.com/featured/top-news-lendingtree-sues-mortech
Jay Weintraub also provided an excellent assessment back in August:
http://www.leadconfidential.com/google-lending-tree-and-mortech-the-past-present-and-future-of-online-lead-generation.html
In summary – it's tough not to be self-serving here, but the writing is on the wall and the elephant is in the room. This Google "lead" is infinitely more valuable if the consumer's data is sent to DoublePositive for the purpose of Contact, Qualify, and Transfer.
But then again, I'm biased.
:-)
SPF
---