Jason Calacanis Interviews Matt Coffin on TWiST #27
By Sean Fenlon on November 27, 2009
---
This is a fantastic interview video.
Jason Calacanis (who is very smart and successful) interviews Matt Coffin (who is very smart and successful) on TWiST #27:
http://www.blip.tv/file/2852558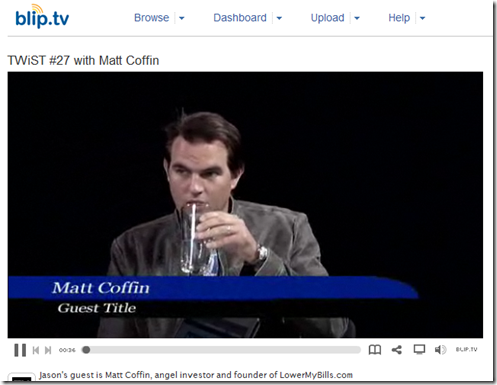 Matt Coffin was the first to hear the Calacanis/Mahalo pitch and the first investor in Jason's most recent startup Mahalo — he also sits on their board. Matt was also the 27th guest on Calcanis's TWiST. ;-)
Matt Coffin was still the head of LowerMyBills.com when they began their partnership with DoublePositive back in 2006.
For those that prefer to just read highlights rather than watch, here are my most memorable Matt Coffin moments:
Startups are INCREDIBLY DRAINING!

Startups are also INCREDIBLY ADDICTING!

Matt recaps the story of LowerMyBills.com through 2007.

Ideas are a dime a dozen. Execution is EVERYTHING.

Steve Jobs is the active Entrepreneur/CEO Matt admires most. "He probably is perfect"

-Pixar only produces $1+ Billion movies – and it is Steve Jobs' "SIDE" Business! :-)
It's a long video but awesome-ness is front-loaded. The call-ins are plenty interesting, but only if you can commit another hour or so.
SPF
---