LeadsCon 2009 Las Vegas – Thoughts, Reports, and Reflections
By Sean Fenlon on March 7, 2009
---
INTRO
===================
I guess this process of writing a blog post on the plane ride home from LeadsCon is becoming somewhat of habit for me. The coverage of LeadsCon from last year's plane ride is here.
Let's start this year by expressing genuine respect and admiration for our friend and LeadsCon founder, Jay Weintraub. Many of us have known Jay since his days at our neighbor Advertising.com – almost ten years ago.
I was one of the fortunate few to learn about the inaugural LeadsCon (2008) from Jay via instant messaging back in 2007. I LOVED the idea. But that's just the point, it was just an idea. Now that LeadsCon 2009 is complete (with over 1,300 attendees), we can reflect and see that Jay has created a successful and valuable franchise from scratch. As a fellow entrepreneur, I am always inspired to see people I know create SOMETHING out of NOTHING. This is what Jay has done. Acknowledging and honoring the creation of something out of nothing is the highest compliment I can pay a fellow entrepreneur. The success of this franchise is evident in the announcement of a SECOND LeadsCon for 2009 in New York. Count us in, Jay! :-)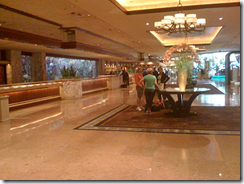 LeadsCon filled a major void in the tradeshow landscape for those involve in online performance-based adverting/marketing, and he did what the best entrepreneurs do – he solved a problem. The Ad:tech franchise has become too saturated/diluted (ask anyone who has attended a recent Ad:tech show and the word "ZOO" will invariably come up). TARGUSinfo has been presenting a high-class summit now for three years running, but the spirit of their event is more limited in scope to just that of TARGUSinfo customers/partners.
The evidence of the need for LeadsCon can be witnessed in the echelon of attendees. Founders and CEO's and senior managers (and even several board members) attend and even man the exhibits rather than the customary booth bunnies. Another aspect that makes LeadsCon so special is the effervescent spirit of deal-making. People came to have fun and to do deals. There was certainly plenty of both taking place.
We witnessed these characteristics of LeadsCon in the first show in 2008 and I immediately "got it." I reached out to Jay soon after and predicted growth of the franchise by orders of magnitude in the years to come and I also wanted shore up our position as a significant sponsor, exhibitor, and promoter of the event. DoublePositive stretched even further for LeadsCon 2009 (we were a sponsor in 2008 as well) by sponsoring two Workshops on Hot Transfers – one for lead buyers and one for lead sellers.
Please keep in mind that as usual, I played the role of a CEO with his tradeshow-biz-dev hat on bouncing from deal-making-conversation to deal-making-conversation out in the lobby, but I tried to attend at least a substantial portion of each of the general sessions. But please don't be upset by holes in the reporting.
===================
Wednesday, March 4, 2009
===================
KEYNOTE: TRANSFORMING CONSUMER INSIGHTS INTO MARKET OPPORTUNITIES
Presenter: Dan Ariely, Behavioral Economist, author of bestselling book "Predictably Irrational"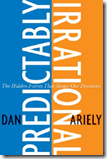 The choice of Dan Ariely for the Keynote address to LeadsCon attendees is a testament to Jay's mature wisdom in tradeshow architecture. Last year's keynote address was delivered by former Experian Interactive CEO, Ed Odjana – a great and "obvious" choice for the LeadsCon audience. At first blush, however, the choice of Dan Ariely – a Behavioral Economist at Duke University – may not to appear as intuitive. Oh, but it was! Ariely is the author of best-selling business book, Predictably Irrational: The Hidden Forces That Shape Our Decisions.
Firstly, let me say that if you have not already read this book, you should. I read this book twice and I found it incredibly thought-provoking and wildly entertaining. Ariely's case studies on human behavior are outrageous and shocking. It ended up shaping many of my own business decisions (we actually developed a $150 Hot Transfer mortgage product using his premise of "price anchoring" – all of a sudden, $89 doesn't look so high! :-))
Jay very intuitively saw the correlation between lead generation and the many various aspects of Behavioral Economics, which made the choice of Ariely as the keynote brilliant.
The majority of items presented by Ariely were indeed topics covered in his book. However, there was some information presented that was not, including a shocking study about how people feel about their significant others. The question was presented: if we setup two groups of people and asked the first group to list 3 things that they loved about their significant other and asked the second group to list 10 things that they loved about their significant other, which group would have stronger feelings about their significant other on the other side of the process. The audience was roughly split with their collective guesses to the answer, but the real answer was the group that listed 3 things felt stronger feels about their significant other after the process. It may seem counter-intuitive to some (such as me), but it turns out, the group that listed 10 things typically ran out of things to list around 6 or 7 and then began to think – "How can I possibly love this person if I cannot even list 10 things that I love about them!" Hilarious.
As a side note, I was watching CNBC in my hotel room while getting ready the next morning and ironically, there was Dan Ariely appearing live as a guest commentator on "Squawk Box." The hosts were asking him to describe how consumer behavior might change in a down economy. Ariely was his typical brilliant self, but the jackass host Mark Haines threw him under the bus by asking "Mr. Ariely, you have a degree in BEHAVIORAL Economics, I trust you also have a degree in 'regular' economics." Ariely replied, "No, actually my other degree is actually in Psychology," to which Mark Haines quipped his jackass response, "Oh god, then we're ALL in trouble." What personally I find fascinating about Behavioral Economics is that it can be tested
in a laboratory, something that cannot be done with "regular" Economics.
STATE OF THE INDUSTRY
David Carlick – Director, ReachLocal, Inc. (Moderator)
Ross Sandler – Senior Analyst Global Internet & Media Research, RBC Capital Markets
Doug Valenti – Chairman & CEO, QuinStreet
Michael Zeisser – SVP, Liberty Media Corporation
This was a somber panel discussion, to say the least. It appeared difficult for the discussion to stay industry-specific in nature and tended to drift more towards the general macro-economic climate. Not surprising – after all the global economy is the elephant in the room. There was a lot discussion, however, surrounding the evolution and transformation of the vestigial (advertising) agency model and their "cost-plus" style pricing models. Apparently, the layers of agencies are actually growing (i.e. Ad Agency –> Interactive Agency –> Search Agency, etc.), which is a recipe for disaster. I find it interesting that this appears to be an extremely industry-specific discussion within the lead generation world. Those in the Mortgage and Insurance industries I don't believe work much within this model, but those in the Education and Automotive industries are knee-deep in it.
I did key in on something I believe Ross Sandler said during the panel – something to the effect of "You know, it's funny. EVERY business I speak to these days amazingly describes themselves as a 'counter-cyclical' business." As a biased founder who has certainly colored many a pitch to align to the winds of the day, I laughed at the line as much as the other folks in the audience. However, I actually DO think there might be something to that notion, at least with respect to the LeadsCon constituency. With the exception of the Mortgage vertical, most players in the leads ecosystem seem to be doing remarkably well! EDU is still white hot and still showing hyper-growth, Insurance is showing steady growth, new technologies such as analytics and lead managements systems appear to be getting traction, etc. In general, I'm very encouraged – even in the face of a general economy that is still cratering and does not yet appear to have found bottom.
LEAD EXCHANGES: THE FUTURE OF LEAD GENERATION?
James Cham – VP, Bessemer Venture Partners (moderator)
Marc Diana – Founder & CEO, LeadPoint
Anik Ganguly – Board Member, Detroit Trading
Keith Moore – SVP, LendingTree.com & Tree.com
This discussion around "Lead Exchanges" has been going on for years without any clear winning positions – it's a debate that just seems to bounce back and forth in between the 40-yard lines. It was a topic at LeadsCon 2008 and receives significant attention on industry blogs such as LeadCritic.
There was a fair degree of contention amongst these four high-octane competitors, with many premises, practices, and models being challenged back and forth. For example, Anik Ganguly of Detroit Trading felt as though transparency was a requirement for any exchange whereas Payam Zamani was quick to challenge transparency as a requirement so long as customers are comfortable without it.
In my humble opinion, the problem is that there is no standard or widely-accepted definition of an "Exchange." On one extreme, one could establish an archetype such as NYSE or eBay and reconcile any practice against theirs – i.e. if NYSE or eBay doesn't do it and you do, you can't call yourself an exchange. On the other extreme one could simply/loosely define an "Exchange" as an "Organized Market" or as an "Interpreter of Supply and Demand." The problem there is that virtually EVERY lead seller (as well as every five and dime store for that matter) would then fit under that definition.
An over-arching theme to this entire discussion was that of scale. It appeared as those most of the panelists felt that owning substantial market share was a requirement for success for any business calling themselves an exchange. This winner-take-all philosophy probably explained some of the contention. ;-)
My completely unsolicited advice here guys is let's back away from the word "Exchange." I know VC's love it and it also may affect future exit multiples, but as of now, we don't know it means and I don't see any evidence that the buyers and sellers care, per se. Let's just describe the value proposition of each individual company to buyers and to sellers and let the rest work itself out without trying shoehorn these vastly different businesses into one category.
Of course, I'm biased, but I was thrilled when I heard my friend Keith Moore mention DoublePositive by name during the panel when he was describing an upcoming partnership announcement with Lending Tree. Thanks, Keith! :-)
Marc Diana took advantage of the session to announce a new LeadPoint feature called LeadClass, which is a three-tier lead quality ranking that will allow LeadPoint clients to adjust their bid based upon the quality tier of the lead.
IN THE SPOTLIGHT – PRIVATE COMPANY SHOWCASE
The purpose of this session was to introduce "some of the most impressive companies you didn't know about." Each company had about 10-minutes to present.
Apologies in advance on this one – since I don't take notes and since these businesses were intended to be a surprise, there is no listing of them in the conference program that I'm using to write this post. Thus, I may have some company names wrong here.
ClearLink – This business appeared to me to be an impressive hybrid of Internet marketing (lead generation) and call center sales management all under one roof. Their focus appeared to be home services and it also appears that they get paid by their client for sales, not leads. Thus, more of a customer acquisition play. Other businesses I know that do things similar (often in other verticals as well) are Tranzact, Acceler, and Red Ventures (formerly Red F).
InsuranceLeads.com – This business was presented by their Head of Corporate Sales. The poor guy had a ton of technical challenges that weren't his fault. When he finally got up the video commercial ~ 4-5 minutes, it was awesome. Very well-produced. Formerly QuotesAuction, this business sells insurance data leads and also sells insurance Hot Transfers (I believe using a call center out of Ukraine). They claimed to be the only company doing Insurance Hot Transfers… Ummm… Oops! ;-). It did look to me as though they did have some pretty slick client-side software though.
Hometown Quotes – Hometown Quotes also sells insurance leads and is a DoublePositive partner (insurance agents who want Hot Transfers of Hometown Quotes leads typically go through us to get that coordinated). We are big fans of Hunter and his crew! :-)
Pangea Media – Interesting business premise that the best consumer engagement always comes from online surveys (which they refer to as "Quizzes" for consumers). First company I've ever encountered focused exclusively on this area.
Dev Domains – This business finds relatively small/obscure websites with high-value traffic, tracks down the webmaster-owners and offers to buy the site. They then add value to the site in an
attempt to increase its cash flow and profitability. In a move I don't think I've ever seen at a tradeshow, the presenter showed a slide of his company's financials. If memory serves, it was around $6MM in top line revenue but with $3MM or $4MM in EBITDA. WOW! Very impressive money-making model, guys. Bravo. Keep up the good work.
Sparkroom – Sparkroom is a business we've known for a long time, and we're huge fans. CEO Jamie McDonald presented a demo of their analytics software. They started in the mortgage leads industry but currently gaining traction in the education leads space.
EXHIBIT HALL OPEN
After the general sessions described above, the Exhibit Hall was opened and lunch was served. In another example of brilliant tradeshow architecture, attendees had to pass through the exhibits in order to get to the catered lunch area. DoublePositive's exhibit was right near the front doors – right behind Lending Tree and diagonal from TARGUSinfo.
After lunch, breakout sessions were presented. Please note that I did not attend many breakout sessions – but I did try to catch all the General Sessions.
Running parallel to the breakout sessions were "Sponsored Workshops." Datamark presented a Sponsored Workshop on Predictive Modeling Across Marketing Channels and eBurea's David Downhan gave a compelling session on "How Lead Scoring Can Work For You – A Hands On Guide." My favorite line from David's session is when he summarized the value of lead scoring by saying "Hey, I just sell three digits. It's what you will do with these three digits that count." I agree, David! :-)
As I had mentioned above, after our incredible experience at LeadsCon 2008, we wanted to make a big splash at LeadsCon 2009 – hence a Hot Transfers workshop for Lead Buyers and another for Lead Sellers.
The first was presented at 4pm on Wednesday:
LIVE Hot Transfers for Lead Buyers – Evolve Your Lead Delivery Model to LIVE Leads and Supercharge Your Applications
When we looked at the ultimate scheduling, we noticed that our session would be the last session of the day and just before a Happy Hour. Ugh. We knew at that point, we probably wouldn't be able to "teach" anything to anyone – everyone was probably close to "Death by PowerPoint" at that point in the day. So we decided to take a different philosophical approach – rather than "teach," let's just entertain.
So we decided to "dramatize" a typical Internet lead buying process (where all the players are unhappy) and compare it to a LIVE Hot Transfers process (where – shocker – all the players were HAPPY!). Rich Dent played the role of "The Consumer," Syed Zaidi played the role of "The Sales Professional," Brian Ocheltree played the role of "The Lead Seller," and Casey Cook played the role of "The Lead Buyer." Joey Liner played the special role of "Mr. DoublePositive," appropriate dressed in his super-hero suit.

All the role players provided some colorful insights into their world, their ethos, and their agendas/incentives prior to dramatizing the process. After dramatizing the typical Internet Lead process, it was clear that all the role players were quite unhappy. However, from the back of the room, Mr. DoublePositive Joey Liner raced through the crowd (over the "Theme to Superman" music playing through the PA) to save the day. A LIVE Hot Transfers process was dramatized and finally, all the role players were quite happy. Judging from the audience reactions, I think that everyone was highly-entertained.
===================
Thursday, March 5, 2009
===================
We repeated the session for Lead Sellers on Thursday at 11am, with only slight variations to calibrate it different from the Lead Buyers session. Our CTO Syed Zaidi filmed the first session and it is available for your viewing pleasure on our YouTube channel at www.DoublePositive.TV
LEAD MANAGEMENT – "GENERATION" IS HALF THE BATTLE
Mike Ferree – President of LeadTrade (moderator)
Frank Ouimette – Co-founder and CTO of LinkTrust Systems
Raj Parekh – GM of LeadsROI, a MediaWhiz Company
Bill Rice – Founder & CEO of Kaleidico
Jeff Solomon – Founder & SVP of Leads360
The Lead Management session was one of the more popular sessions at LeadsCon 2008. While relatively cordial, the panelists were highly-spirited during the panel, to say the least. This year, all the same players were back, but the CEO of LeadMailbox was replaced with Frank Ouimette of LinkTrust systems.
By contrast, this year's panel felt more subdued. Perhaps because it took place at 9am instead of the afternoon. ;-) There was a lot of discussion around the importance of "Speed to Lead" and how the effective systems might facilitate this. Industry veteran Noel Collins engaged from the audience in some early Q&A dialog with the panelists – probing them for magic numbers within their respective aggregated data sets. After a good bit of back-and-forth, Jeff Solomon finally closed the thread by saying something to the effect of "Yes, we've got it. But we're not going to release it publicly – that's part of our secret sauce that we'll share with our clients privately."
AD NETWORKS AND DISPLAY

Rob Leathern – CEO, CPM Advisors (moderator)
Rob Deichert – SVP Publisher Operations & Yield Management, Platform-A (AOL)
Dilip DaSilva – CEO, Exponential (formerly Tribal Fusion)
Dave Zinman – VP of Network Management, Yahoo!
Murthy Nukala – CEO of Adchemy
This was a fabulous panel featuring two of my good friends, Rob Deichert and Murthy Nukala. Before going into the discussion, let's start with this premise – display advertising is HARD to make work. REALLY hard. Moreover, buying CPM and selling CPA is REALLY, REALLY, REALLY hard. There have only been a few elite firms to crack that code and make this channel work for lead generation at scale. Effective CPM rates (eCPM) rule the day, and they can vary wildly from vertical to vertical and offer to offer. And publishers (supply side) are largely ambivalent as to which ad, offer, or vertical fills in the wireframe of their ad inventory. It's fiercely Darwinian from the advertising (demand) side.
The discussion began with the topic of Display Ad Exchanges and auction-style ad networks are how they are good things and they here and are here to stay. Right Media (owned by Yahoo!) is perhaps an example of an exchange where the majority of its inventory is from Owned-and-Operated sites (i.
e. Yahoo Finance, Yahoo Mail, etc.). Although Advertising.com's AdLearn manages the Owned-and-Operated inventory of AOL, its real reach largely comes from the third-party network of Advertising.com.
Murthy Nukala summarized any ad network as being four things – Inventory, Data (i.e. Behavioral Targeting data or Demographic Data), Algorithms, and Sales. He went on to concede that it is extremely difficult for any one network to be superior at more than one or two of those items.
Murthy also mentioned a product that Google (as a result of their acquisition of DoubleClick) will be releasing in the months to come – a game-changing paradigm shift. What Murthy described sounded to me like a Ping-Post system (common in the leads world) but for display ads. In other words, Google would send a message out to all potential advertisers that says something like this… "Hey, Mr. Advertiser – I have this (type) user, and he's about to look at this size ad. Do you want that ad to be YOUR ad? If yes, you now have less than 100 milliseconds to let me know how much you are willing to pay for it and also provide me with the creative so that I can display it."
Whoa! That's incredible. Game changes seldom do all of their disruption over night, but I'll be watching the effects of this closely.
There were some questions from the audience about things like Display Ad fraud – especially in situations where there are cascading ad networks involved. I didn't even know this type of fraud existed. The answer from Dave Zinman was essentially, "Well, we're working on ways to mitigate that, if not eliminate it, but at the end of the day, it's just all baked into the performance metrics relative to the price." How about that – the same answer we (the broader industry) often give and/or get at the CPC and CPL levels as well.
THE FUTURE OF LEAD GENERATION: GETTING TO 2.0

Sandy Kory – VP of New Media & Technology, Media Venture Partners (moderator)
Matt Coffin – Investor at Coffin Capital (founder and former-CEO of LowerMyBills.com)
G. Cotter Cunningham – CEO of SmallPonds, Inc.
Saar Gur – Venture Capitalist at Charles River Ventures
Jonathan Turner – Founding Partner, Qatalyst Partners
I found this session to be the most "forward-looking" of all the sessions. Matt Coffin was his typical brilliant self and he continues to solidify himself as an A-list Tradeshow participant. One of the things I enjoyed hearing him say was a silver-lining perspective of the current market conditions. With advertising rates in a free-fall, Matt said something to the effect of he would "be a kid in a candy shop right now" in terms of innovative methods to take advantage of these rates for big profits. Saar Gur conceded that Lead Generation in general is STILL not a space that is typically a good fit for venture funding since it is so difficult to find any truly sustainable competitive advantage. And with barriers to entry being so low, there are a lot of people just slugging it out buying media CPM and CPC and turning around and selling CPA. Tough business, indeed.
IF QUALITY IS KING, WHAT IS SCORING? THE ACE IN THE HOLE?
Alex Baydin – Founder & CEO of PerformLine
David Dowhan – SVP of Online Markets, eBureau
David Sobie – VP of Product, LeadPoint
Dave Wengel – GM of Interactive Markets, TARGUSinfo
Matt Wise – President & CEO, Q Interactive
I found this session to be a bit paradoxical. One the one hand – WOW! Look at that lineup! That is a serious cast of industry veteran – sort of like the LeadsCon equivalent of the dream team. On the other hand, I felt everyone struggled a bit to be able to bring genuinely new dimensions of discussion to the Lead Scoring topic that we haven't been talking about for the past couple of years. The issues discussed certainly had a lot of overlap with the Lead Scoring panel of last year. David Sobie got to plug his new LeadClass – a simple way of product-izing lead scoring from the sell-side. But in general, I think we're gonna need to wait this one out for a few more years before critical mass. The concept of dynamic pricing based on lead scores through all segments of the chain (the Lead Buyer's BID, the Lead Seller's ASK, the media costs, etc.) still feel a long way off. Everybody I know agrees it's a good idea when they see it on the white board, but I just thinks it's going to be a relatively slow evolution in order to get all these constituencies to unbundle their economics from blended/batch thinking and into fluid dynamic scoring and pricing. That said, we remain huge advocates of lead scoring and hope to help in the moving of the mountain efforts.
VIP Party at "Pure" (Caesar's) – Hosted by All Web Leads and LendingTree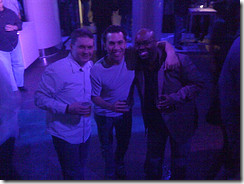 In a word, WOW! I thought the LeadsCon party at LAX in 2008 was impressive, but I think there were more attendees at this party in 2009 then there were TOTAL CONFERENCE ATTENDEES in 2008. The venue was exquisite – draped in white EVERYTHING (like the name suggests). The venue was exclusively for LeadsCon and every section had a dedicated server. And they were good. The dance floor filled up pretty good by mid-party (after a few drinks made inhibitory synapses fire a bit slower :-)). Jay even was able to have the party extended by half an hour or so since it was going on strong. Look in the coming days for lots of pictures on Facebook, Twitter, etc.
Special thanks to our friends at LendingTree and our new friends at All Web Leads for Hosting and Sponsoring the high-octane affair.
===================
SUMMARY
My general takeaway from this event was more than encouraging. On days that the stock market was tanking even further below the previous support levels, we were attending a vibrant tradeshow that had more than TRIPLED its attendance from the previous year.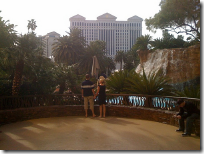 The Advertising industry in general is tanking, but this crowd is somewhat insulated because what is remaining of the Advertising industry is speeding up its shift into performance-based delivery models. Those in the leads world know how to do this better than any other.
Vertically speaking, EDU is clearly carrying the day. Volume is good, margins are good, pricing paths keep all parties happy and everyone is still in hyper-growth mode. But that's what scares me a bit. I remember feeling the same way about the Mortgage vertical in 2003. Now, Mortgage was not even the second-most represented vertical at the show. Wow. LeadsCon 2009 was the coming out party for the Insurance vertical. It was fabulous to see all the representation from both the Insurance lead buying and lead selling side, and Insurance
was also frequently a part in the panel topics.
Horizontally speaking, Lead Scoring is still a buzz, but not a tremendous amount of new ideas – rather it is still maturing in the adoption phase. Display advertising is poised to become much more of a major force in the Lead Gen world that ever before as a result of plummeting CPM's. But the most significant horizontal buzz I gleaned from the show was Hot Transfers. I know, I know – I'm biased. But I was biased last year too, and I did NOT feel this way after that show. It was coming up on panel discussions that had nothing to do with Hot Transfers, per se. Verticals that had never ventured into Hot Transfers territory were discussing ways to make transfers a permanent part of their marketing/sales workflows. And we had many, many, many people tell us that DoublePositive and Hot Transfers were the big buzz at the show.
Yes, I'm biased, but there's no way I'm 100% wrong on feeling this surge of momentum. My spidey-senses are tingling on this one! :-)
Hope to see you all at LeadsCon NYC!
p.s. Please use the comments to give a shout out to Jay Weintraub for another massive success.
---