Best/Favorite Movies
By Sean Fenlon on August 14, 2010
---
Earlier today, during a DoublePositive pizza lunch, I asked my fellow lunch-mates to name their favorite movie.
Wait. "Favorite" or "Best" they asked.
Good question.
Here's my best/favorite list of all time:
The Wizard of Oz
West Side Story
The Sound of Music
Star Wars
Empire Strikes Back
Amadeus
Back to the Future
Raiders of the Lost Ark
Rocky
The Karate Kid
Ferris Bueller's Day Off
Caddyshack
Hitchhiker's Guide to the Galaxy
Jackass 2 The Movie
Borat
The Holy Grail (Monty Python)
Goodfellas
Dumb & Dumber
Jerry Maguire
The Great Escape
Honorable Mentions
Pulp Fiction
Memento
Exorcist (not a "favorite" in the classic sense but always in awe)
Exit Through the Gift Shop (still in theaters)
Blade Runner
Ghostbusters
Fight Club
Rain Man
Raising Arizona
V is for Vendetta
I was curious to scrub my subjective picks against a more objective source. I decided to use the American Film Institute's Top 100 list as the objective source:
http://en.wikipedia.org/wiki/AFI's_100_Years.100_Movies
But I completely disagree with their Top 5 films of all time.
I just checked my theory with Google Insights. It appears I'm right. :-)
SPF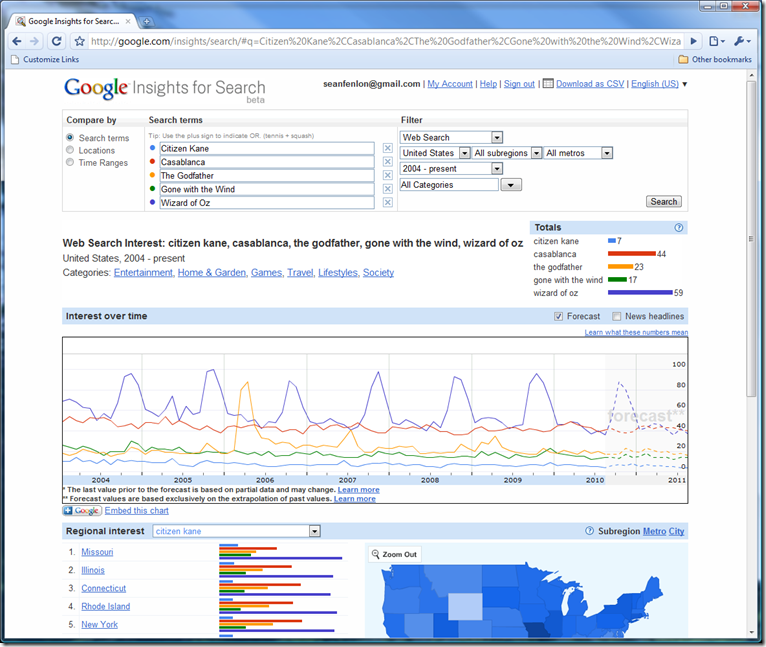 ---