Goodbye 2009 – Review of Predictions for 2009
By Sean Fenlon on January 1, 2010
---
Any self-respecting-predicting-blogger always needs to review his past predictions before moving on with the new ones.
Let's take a look at my Predictions for 2009:
http://blogs.doublepositive.com/2009/01/01/goodbye-2008-review-2008-predictions/
Oops, wait. That was 2008.
Here is 2009:
http://blogs.doublepositive.com/2009/01/01/hello-2009-predictions-for-2009/
Here's what I predicted.
1. Things Changed
Yup. Nailed that one.
2. People and Businesses Will Try Harder than Ever to Avoid Pain
Yup. Nailed that one.
3. People and Businesses Will Try Harder than Ever to Gain Pleasure
Yup. Nailed that one.
4. "Other" People in our lives become more clearly classified as either People, Friends, Community, Network, Associates, Colleagues, Traffic.
Tough to be objective about this one, so let's see what Google says: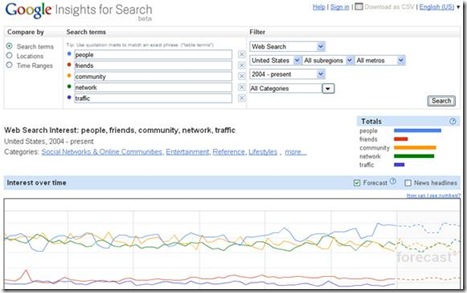 Hmmm. I know I'm biased, but I think I'm right on this one.
5. The "Best" Athletes Emerge
This prediction-headline doesn't say enough. The rest of the prediction was as follows:
2008 was the year of the athlete. Tiger Woods (winning the U.S. Open on a broken leg), Michael Phelps (winning 8 Gold Medals and setting a new world record), the Redeem Team, etc.). However, something tells me the REAL athlete stories won't break until 2009. No clue who or what they might be, but my Spidey-senses are tingling on this one.
Wow, I named Tiger Wood and Michael Phelps. Both fell hard in the headlines in 2009 for different reasons. I'm equally shocked that the redeem team (of whom I was critical of for poor teamwork) has "Emerged" as the "Best" behaving athletes.
I'm biased but I want to take credit for nailing this one, but I won't take credit for it in the total since it is far too subjective.
6. Internet Collaborative "Art" is officially born.
Yup. Nailed this one. Guitar Hero. Rock Band. YouTube. It's now here and it's awesome. Nuff said.
http://www.amazon.com/Maestro-Surprising-Story-Leading-Listening/dp/1591842883
7. Science Wins
Easy prediction, so I don't deserve any points/credit for this one either.
It's simple.
Science scales. Art doesn't.
8. Mobile Explodes (but not Mobile Advertising. yet)
iPhone changed everything in mobile. iPad may do the same:
http://www.google.com/search?hl=en&source=hp&q=ipad
The very word "mobile" now sounds outmoded if not antiquated.
Specific to the prediction, I call it a push. Ask any consumer about Mobile Advertising in 2009 and nobody ever noticed a blip on the radar. However on the B2B side of that same question, we witnessed the smartest company ever (Google) acquire AdMob for a reported 20X top line revenue (for a not-profitable business). Shortly thereafter, the biggest VC Fund on the planet (NEA) invested heavy in Millennial Media.
So, maybe "Mobile" did explode this year. ;-)
I am going to count this as a miss.
9. LIVE Matters
Yup. Nailed this one. I know personally, I shook more hands and looked into more eyes this year than ever before in my life.
10. Don't Panic. Be Happy.
Yup. Nailed this one. At least I did what I predicted.
All totaled, I give myself 8 out of 10. A solid B.
Now on to 2010 and BEYOND! :-)
SPF
---