I Love Apple
By Sean Fenlon on April 29, 2010
---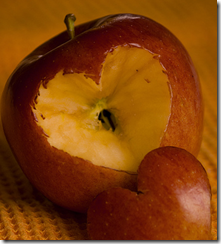 I love Apple.
Not just because they're huge:
At this moment, their market cap is $245 Billion — that's more than Walmart, GE, Google, Cisco, and IBM. They're only 10% less than Microsoft's market cap of $272 Billion, and worth more than HP and AT&T combined (well… almost).
Not just because I'm a user of many Apple products:
I currently own 3 iPods, an iMac, an iPhone, an AppleTV, an AirPort Extreme Router, and an iPad and new MacBook Pro are on their way.
Not just because I own their stock:
I bought their stock in late October 2008 at $91.49 based on some good advice from Warren Buffet. It has grown 300% since then to $269.74 (as of today). Margins are fantastic as well.
Not just because Steve Jobs is my favorite entrepreneur:
I quote Matt Coffin "He probably is perfect – Pixar only produces $1+ Billion movies – and it is Steve Jobs' SIDE Business!" BTW, as a side note I completely agree with the premise, the analysis, and the description of Steve Jobs in this blog post by Ben Horowitz – Marc Andreesen's VC partner – defending their investment strategy preference for founding CEOs.

http://bhorowitz.com/2010/04/28/why-we-prefer-founding-ceos/
While all of these things certainly play a role, I love Apple because I LEARN from Apple, I'm ENTERTAINED by Apple, and I'm INSPIRED by Apple. That is something only great art can do for me. As a business, Apple is art (whereas Google is science).
I LEARNED from Apple that you can acquire an entirely independent business in January and then turn that business into an integrated product launch by April.
In January of this year, Apple acquired Quattro Wireless. And on April 8th announced the iAd product based upon the Quattro Wireless platform. Another side note — with Google's purchase of AdMob and Apple's purchase of Quattro, I don't think I'm going too far out on a limb to predict that Microsoft will acquire Millennial Media in the near future.
I have been ENTERTAINED by Apple's products for years, but most recently I have been entertained by their high-stakes corporate strategy to completely avoid any compatibility between Apple's mobile products and Adobe's Flash.
I originally viewed this strategy as simply closed-network chest-thumping, but then I read the letter Steve Jobs published today on the Apple website which articulates six reasons why Apple won't support Flash technology on the iPhone, iPad and iPod Touch. If you read these reasons and digest them, they all make complete sense. A great decision (while provoking a highly-entertaining battle).
I am now INSPIRED by Apple's liberated and practical acquisition of Siri.
Siri is an iPhone app – a really cool Virtual Personal Assistant. Apple is certainly NOT in the habit of buying their app developers. Moreover, in the tech sector, the emphasis is always on core technologies (i.e. "proprietary" or "secret sauce" or "patents") – Siri does not fit this mold. Siri is a service that pulls together all sorts of services and technologies OTHER COMPANIES have already created (e.g. buying tickets on StubHub, dinner reservations through OpenTable, third-party speech recognition, etc.). I LOVE this kind of play – I often refer to this as "Second Layer Technologies." I consider DoublePositive to be a "Second Layer Technology" play. We certainly did not invent Internet Leads. We do not have a patent for Call Centers. We have considerable proprietary technology for lead optimization, but we INTEGRATE with best of breed providers for technologies outside our wheelhouse.
In the past, "Second Layer Technology" plays have been undervalued, if not dismissed, as Middleware. However, a company as brilliant as Apple obviously feels otherwise about Siri which inspires me to think of DoublePositive in a similar light.
Did I mention I love Apple? :-)
SPF
---