Predictions for 2010
By Sean Fenlon on January 1, 2010
---
Happy New Year Everyone! :-)
I am going to try and do a repeat performance to last-year's real-time blogging at the stroke of midnight.
I'm using Google again as the clock (EST):
http://www.google.com/search?hl=en&source=hp&q=time
I should concede that Google is certainly cyclical if not bullish on Predictions in general: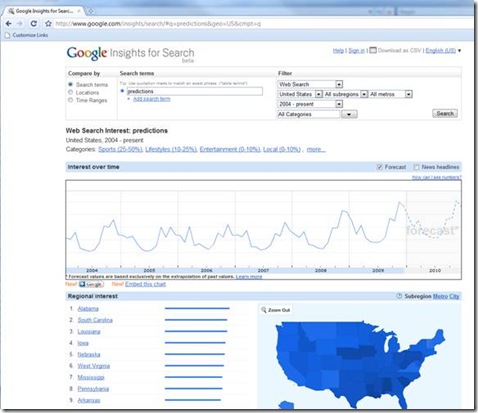 No matter. Personally, I'm always bullish about predictions. But then again, I'm biased. ;-)
Here are my Predictions for 2010:
1. 2010 is the Year of the (Internet) Device and of the (Internet) Transfer
iPod, iPhone, iSlate = LIVE Internet Communication devices. DoublePositive handles LIVE communications with consumers better than anyone and transfers calls over voice lines and data over Internet connections.
2. 2010 is the Year of the Musician

The Greatest Musicians of our Generation Go Device-less in 2010:
Pat Metheny (Orchestrion)
Bobby McFerrin (As Usual)
Guitar Hero & Rock Band Champions
3. Some Great Internet Companies Go Public in 2010
QuinStreet
Glam Media/Demand Media
LiveOps
Etc.
4. Some Great Internet Companies DO NOT Have an IPO in 2010
Facebook
LinkedIn
Twitter
5. Food Rules the Day
Most adults in 2010 will take a hard look at their own body weight. They will also come to the realization that diet affects this number far more than exercise. However, Cooking is an art with many artists. Grocery shopping, prepping (a la sous chef), serving, and cleaning is not art and is not fun. The process of finding a place that will sell you food that is good for you and your family will rise to new heights in 2010.
6. The Ultimate Currency in 2010
A lot of debate will circulate about the ultimate currency of Gold/Money (from many countries). Also, the evergreen debate that Happiness/Laughter is the ultimate currency in the entire universe will continue.
However, my prediction for the Ultimate Currency in 2010 will be the Consistency/Predictability of People/Humans.
7. Avatar dominates movie chatter but never eclipses Star Wars
I understand that James Cameron is a fan of George Lucas and has always been chasing him professionally. Avatar will not allow Cameron to eclipse Lucas. The technology and science is far superior in every capacity, but the art of the story line does not even hold a candle. Lucas simply uses The Force better.
8. A new "simple" philosophy is taught to youths that gains traction:
Go to school – stay in school
Get married – stay married
Get a job – keep a job
9. LIVE STILL MATTERS
Please see Predictions for 2009. Nuff said.
10. 2010 is the best year in years for all of us in the FREE-est and most-TRANSPARENT country on the planet.
The USA economy will find a "New Normal" of 10% unemployment will continue to prosper. However, most working adults will "feel" this prosperity in 2010. 2010 is the year.
Cheers all! :-)
SPF
---