DoublePositive, LeadsCon, & Performance-based Online Marketing – a Unified Field/Funnel Theory
By Sean Fenlon on July 5, 2012
---
LeadsCon East in NYC will be here in just a few short weeks. DoublePositive will be attending, exhibiting, sponsoring, speaking, and generally making a lot of noise – as usual :-).
This will be our 4th LeadsCon East and our 9th LeadsCon overall.
A quick look at the sponsors and attending companies shows some new names and new players. It's exciting to see this blossoming of businesses taking a more active role in the tradeshow and thereby increasing their awareness amongst all the other players in the ecosystem.
A common theory around the growth and success of LeadsCon has been its focus on a previously-under-represented Lead Gen ecosystem and also the simplicity of understanding how various businesses are positioned and their value propositions.We have always viewed all the businesses playing in the LeadsCon ecosystem in one of three groups: Lead Buyers, Lead Sellers, and Tech/Service Providers.
1. Lead Buyers-aka Advertisers, Direct-response Advertisers, Consumer Sales Organizations, Mortgage Originators, Education Providers, Insurance Carriers/Agencies, etc.
This group is the "end-user" of a lead and is considered the demand side of the LeadsCon ecosystem.
This group is generally dedicated to selling a product or service to a consumer in a single industry or vertical such as Mortgage, Education, Insurance, Home Services, Automotive, Senior Living, etc. There are very few examples of Lead Buyers buying leads for more than one vertical.
2. Lead Sellers–aka Lead Providers, Lead Aggregators, etc…
A lead is not a

click

. A lead is not (just) a data record of PII and contact information on a list. A lead is an expression of interest by a consumer for a specific product or service offering–aka a "hand

raise

." What this group is NOT are sellers of cold records/data/lists. Lead Sellers sell hand raises along with a method or model to provide live contact via phone with the hand-raisers.
Many of the earliest lead sellers were dedicated to selling leads into a single vertical (e.g. LendingTree/mortgage, ClassesUSA/education, InsWeb/insurance). However, in 2012, Lead Sellers are as likely to sell leads into multiple verticals (e.g. QuinStreet,

BankRate

, Experian Interactive, Adchemy, Vantage Media, etc.) as they are to remain dedicated to a single vertical (e.g. Education Dynamics/education, All Web Leads/insurance, and AutoByTel/automotive).
3. Tech/Data/Service Providers–aka "the magic in the middle"
While the number of Lead Buyers and Lead Sellers is in the dozens, this third category is a smaller more concentrated list and divided into sub-groups:
Data Companies (lead verification/validation, lead scrubbing, lead scoring, etc.)
Hot Transfers and Call Center Service Providers
Lead Management Software
Compliance Monitoring & Tracking software and services (a relatively new kind of business in this category

)

–the pioneer in this space is PerformLine and our friend Alex Baydin has done an excellent job positioning his company as the leader in this category. Other businesses in this category include OmniAngle, FraudLogix, CPA Detective,

etc
A simple visualization making this categorical analysis easy to understand is below: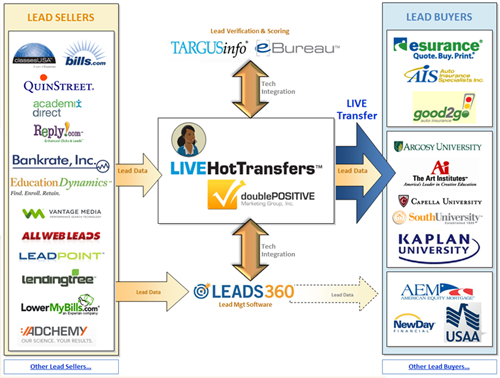 *My apologies to all the excellent businesses and DoublePositive partners whose logos are not on this diagram as a result of space limitations – the logos were chosen randomly
As you can see, there are lead buyers, lead sellers, and businesses in the middle making lead buying/selling more effective and more efficient.
Simple.
This ecosystem is estimated to be approximately $3 Billion in total lead spend across all verticals by LeadsCouncil. After the mortgage crisis of 2007 decimated mortgage leads budgets, Education emerged as the largest lead buying vertical, representing approximately half of the $3 Billion total.
While lead buyers are "in" specific industries (Mortgage, Education, Insurance, Automotive, etc.), the Lead Sellers and Tech/Service providers are not–rather they sell into those industries as specific vertical target markets. However, there is no such thing as a Lead Gen Industry. Rather, Lead Gen is a subset (online + performance-based) of the Advertising industry.
The online advertising industry is big. REALLY big. You just won't believe how vastly, hugely, mind-bogglingly big it is. The Internet Advertising Bureau (IAB) pegs 2011 US online advertising spend at approximately $30 Billion, growing over 20% per year.
These same IAB reports show the breakdown of how this $30 Billion is distributed by channel: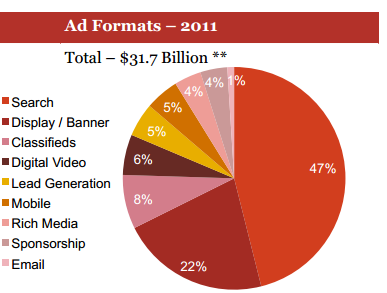 What has always been so troubling for those of us in the Lead Gen ecosystem (and those of us who are closer to the data report) is the IAB includes a wedge on this pie chart called "Lead Generation" and shows the amount at substantially less than the $3 Billion. Indeed, simply adding together three or four of the lead budgets of the biggest 3-4 publicly-traded for-profit schools exceeds this amount.
Recently I uncovered what this amount is intended to reflect: Tier-1 publishers and media companies selling advertising on a CPA or CPL basis (as opposed to selling on a CPM or CPC basis). Thus, if Fill-In-The-Blank.com sells advertising on a per-lead basis, those dollars are reflected in the IAB numbers. However, if QuinStreet spends $1 on a click from Google, that click is converted into a lead that QuinStreet sells to the University of Phoenix for $50, the $1 is included in the IAB report (under "Search"), but the $50 is not reported on at all–by anyone for that matter.
In other words, most of the $3 Billion Lead Gen ecosystem functions as a SECONDARY or DERIVATIVE market relative to the primary $30 Billion online advertising market.
The balance of the $3 Billion should be considered a secondary market because Lead Sellers BUY from the horizontal primary $30 Billion market in order to generate leads and sell those leads into VERTICAL markets.
Nobody knows the exact breakdown of channels used by the Lead Sellers to buy media in order to generate leads, but everyone intuitively knows that Search is the dominant channel. Let's face it, Search Marketing and Lead Gen go hand-in-hand. With Search Marketing, the consumer shows their interest and intent vis-à-vis the search query they enter while leaning forward and engaged with the search engine. In other words, the consumer hand raise begins even before any cost has been incurred. Other channels Lead Sellers buy media from in order to generate leads include display, email, contextual, affiliate, etc.
The easiest way to understand the intersection of online advertising and the Lead Gen ecosystem is by visualizing a funnel that breaks down how media/advertising is bought and sold using the various pricing models as the specific segments of the funnel.
Since the last LeadsCon (West) in February, DoublePositive has expanded its go-to-market strategy by incorporating all of this information. First we identified the part of the funnel that we pioneered back in 2004 (LIVE Hot Transfers). We then identified all the vertical markets that were the most mature and therefore the ripest for Hot Transfers
We then became the Online Marketing Agency of Record for very big Lead Buyers in each of these vertical markets. This capability represented a "service" that was complementary to the "product" of Hot Transfers. Our work as an agency also broadened our skills as media-buyers with an obsession for right-pricing and segmenting leads, clicks, and impressions. Along the way we also developed a strong bias for biddable impression, click, or lead inventory so that our right-pricing could be done via algorithms and the buying could be done via API as opposed to used-car-style negotiations and batch/bundled IO's.
The next frontier for DoublePositive is to take our expanded capabilities and use them internally as a means to an end (as opposed to selling the capabilities as an agency/service) in order to develop, sell, and deliver new performance-based online marketing products.
We have learned that Online Advertising/Marketing is really just one funnel and DoublePositive is really just one business buying and selling across all segments of that funnel. This is our Unified Field Theory and resulted in our new unified strategy for the future.
We have also learned that every Advertiser or Lead Buyer has a specific way they want to buy (e.g. Delivery Models such as data leads, Hot Transfers, Mobile Calls, Clicks, etc.) and that some Advertisers or Lead Buyers want to know the specific path the consumers took before interfacing with the specific offer. We believe our knowledge of how ALL online marketing is conducted allows us to be deeply consultative with our clients in such a way that allows us to sell them what they want and at a price/performance standard that they set.
I know I'm biased, but I hope you can see what I am so bullish about the growth of Online Marketing and the unified future of DoublePositive.
See you at the show.
---