The Michael League Group (aka Snarky Puppy)
By Sean Fenlon on September 27, 2014
---
Earlier this evening (9/26/2014), Snarky Puppy performed at The Fillmore in Silver Spring, MD.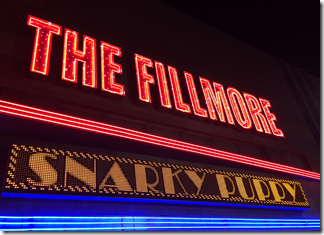 I deliberately chose "The Michael League Group" as the title of this post after shaking his hand for the first time and having a good 2-minute conversation with him.
Michael League is the leader of this group.
In the 60's a brilliant band leader named his group "The Don Ellis Orchestra" www.donellismusic.com
In the late 70's a brilliant band leader named his ensemble "The Pat Metheny Group"
www.patmethenymusic.com
While the band name is officially "Snarky Puppy," I see this more as "The Michael League Group."
But just to be safe, I registered the domain name www.snarkypuppymusic.com and plan on publishing a blog on that domain similar to the blogs I publish on www.donellismusic.com and www.patmethenymusic.com.
I first learned of Snarky Puppy from my live-music-aficionado-friend Rich Dent:
Ever since then, I have become obsessed with Snarky Puppy on YouTube:
https://www.google.com/search?q=snarky+puppy+youtube
I have also bought every Snarky Puppy DVD/CD product available:
http://snarkypuppy.ropeadope.com/
I have preached "Snarky Puppy" to any and all music fan that would listen to me for months. The only other artist that they have heard me preach about is Pat Metheny, so many (especially 20-somethings and 30-somethings) were dubious. Nonetheless, I was still able to convince two young live music fans to attend this particular concert with me: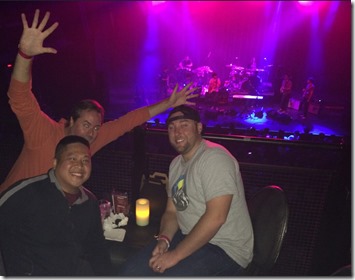 If you ever get a chance, just ask Nguyen Le and Matt Fraser what they think of Snarky Puppy. :-)
At the end of the show and after Nguyen and Matt headed home, I began hunting down members of the band to talk to, like a salmon persistently swimming upstream.
The first band member I was able to corner was Chris Bullock:
http://www.chrismbullock.com/
The second band member I was able to lure into conversation was Mike Maher:
https://twitter.com/mazsings
Ultimately, persistence paid off. I watched the Snarky Puppy Band Leader go from working the Merchandise Counter to smiling for countless pictures outside the venue.
Michael League grew up just 20-minutes outside of DC, so even his Mom was a proud attendee of the audience.
I rudely interrupted Michael on his walk back to privacy/safety.
Here's what I said…
"Michael League… My name is Sean Fenlon. I am at least 15-years older than you and at least 30-pounds heavier than you but we are kindred spirits. I first learned of you and of Snarky Puppy six months ago. I earned my Doctorate of Music right up the road at The Peabody Institute of The Johns Hopskins University. My Doctoral Dissertation is on www.DonEllisMusic.com. I maintain a blog on www.PatMethenyMusic.com. And, oh yes, I registered the domain name www.SnarkyPuppyMusic.com."
I also went on to explain www.DoublePositive.com as an online marketing powerhouse to Michael.
After two brief minutes,I shook Michael's hand and told him that it was great to meet him and that this is not the last time we will meet.
Michael looked me in the eye and said "www.DonEllisMusic.com right?" I said yes.
#persistence
---