Snarky Puppy Family Dinner Volume 2–Live Recording
By Sean Fenlon on February 21, 2015
---
Intro
It's a strange universe. Somebody ought to sell tickets.
I have known of Snarky Puppy and the band's fearless leader Michael League for less than a year now, and it's only been about six-months since I first saw them perform live at The Fillmore in Silver Spring.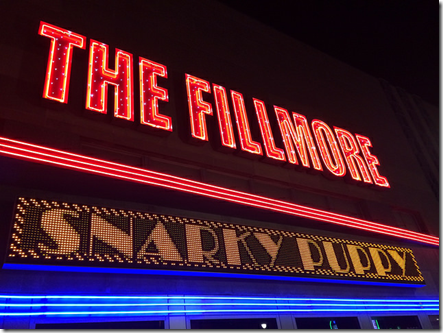 Nguyen Le and Matt Fraser – the two friends who enjoyed VIP tickets along with me at The Fillmore show – became instant Snarky Puppy maniacs. Their first act of fanaticism was to stalk the band's Facebook page for an announcement regarding Snarky Puppy Family Dinner Volume 2.
Now, before continuing on Volume 2, a few words about Snarky Puppy Family Dinner Volume 1…
Volume 1
Snarky Puppy Family Dinner Volume 1 was recorded on March 8, 2013 – a solid year before I had even heard of the group – at The Jefferson Center in Roanoke, VA.
http://snarkypuppy.ropeadope.com/album/family-dinner-volume-1
The genesis of the Snarky Puppy "Family Dinner" concept (according the voice-over track on the Family Dinner Volume 1 DVD) was a recurring live set in NYC hosted by Snarky Puppy between 1am-3am. It became a favorite place for guest artists (primarily vocalists) to sit in with the band after their own respective gigs at other venues. The Snarky Puppy band would often re-imagine and re-arrange the guest artists' own songs so that new and magical things would happen during the live performance collaborations.
Michael League invited a host of their favorite "Family Dinner" artists to record Volume 1, and set up the recording to include a live audience on the stage with the audience's headphones wired into the same sound board mix that the performers were monitoring, thus capturing the raw energy of a live performance but in an acoustically-precise studio recording environment (a practice that has become a Snarky Puppy trademark). And, as always with Snarky Puppy recordings, multiple cameras were rolling capturing live video so that all the recorded tracks could have a free professional video released on Youtube:
All the tracks on Volume 1 are magical IMHO, but one track in particular soared to prominence on January 26, 2014 when "Something" featuring R&B vocalist Lalah Hathaway won a Grammy award for "Best R&B Performance." After 10+ years of hard work, Snarky Puppy was an overnight success.
An element that made this particular track special was Hathaway's use of "multiphonics," i.e. singing multiple notes/pitches at the same time. Hathaway claims it's only two notes, but the band claims they hear three distinct pitches. In either case, it's a skill that's almost super-human and Hathaway improvises her way through it all in one take:
http://www.grammy.com/news/the-making-of-lalah-hathaway-and-snarky-puppys-something
The only other artists I have ever observed with a similar skill are Bobby McFerrin (skip to 2:20):
…and Kongar-ol Ondar performing with Bela Fleck:
Needless to say, the attention and accolades generated by this Grammy award on Snarky Puppy Family Dinner Volume 1 made guest artists and fans alike begin to clamor over the opportunity to be a part of Volume 2.
Now, back to our heroes, Nguyen Le and Matt Fraser…
Volume 2
Knowing that tickets would be in such high demand, they concocted a plan to synchronize their ticket-buying efforts via live conference call, and the second the clock struck 10am on December 1, 2014, they had procured four tickets to Snarky Puppy Family Dinner Volume 2. :-)
According to the band's Facebook page, the tickets SOLD OUT in under 4 minutes:
Minutes later I received excited emails, text messages, and calls from Nguyen and Matt that one of the tickets (literally) had my name on it. It was time to start planning travel to New Orleans for Saturday, February 14, 2015.
Volume 2 recording was designed to use the same format as Volume 1, but this time at Esplanade Studios in NOLA: http://www.esplanadestudios.com/
The lineup of guest artists was released soon after the ticket sales:
Featured
Vocalist/Multi-instrumentalist, Jacob Collier (UK): http://www.jacobcollier.co.uk/
Swedish Folk Band, Väsen (Roger Tallroth, André Ferrari, Olov Johansson): http://www.vasen.se/
Vocalist, Chris Turner: http://christurner.bandcamp.com/
Funk Pop Duo, Knower (Louis Cole & Genevieve Artadi): http://knowermusic.com/
Guitarist, Charlie Hunter: http://www.charliehunter.com/ (along w/Percussionist, Marcelo Woloski: http://marcelowoloski.com/ )
UK vocalist Laura Mvula: www.lauramvula.com (along w/ Canadian vocalist, Michelle Willis: http://www.michellewillis.ca/ )
Peruvian vocalist, Susana Baca: http://susanabaca.com/
Legendary vocalist from Crosby, Stills, Nash, & Young, David Crosby : http://www.davidcrosby.com/
Vocalist, Becca Stevens: http://www.beccastevens.com/
Other Instrumentalists include:
Saxophone/Woodwinds, Jeff Coffin: http://www.jeffcoffin.com/
Saxophone/Woodwinds, Carlos Malta (from Brazil): http://carlosmalta.com.br/
Percussionist, Bernardo Aguiar (from Brazil): http://www.pandeiro.com/bernardo.php
Sousaphone (from New Orleans), Big Ed Lee: http://thesoulrebels.com/band/edward-lee-jr/
[Prior to the recording, I assembled selected Youtube Videos from these respective artists into a Playlist so that I could get more acclimated with their work: https://www.youtube.com/playlist?list=PLB1U1i4s5W1xsBXyJavpeKBmQLPl4Rd34 ]
February 14, 2014
I arrived in New Orleans the afternoon of February 14th – the final day of recording. My understanding is that the band and the guest artists arrived approximately a week early to select, arrange, and rehearse the tracks for recording. I also understand that all tracks were recorded a total of six times – each straight through in one take – with two seperate recording sessions (and separate audiences) on Thursday, Friday, and Saturday night.
Our tickets were for the 7:30pm recording on Saturday night making them the second to the last of all the recording sessions (the last session taking place at 10pm that same night). Thus, we believe we experienced a particularly tight and well-rehearsed session being the final day of recording.
Since 2/14 is not only Valentine's Day and also smack dab in the middle of Mardi Gras in NOLA, finding accommodations was not for the faint of heart. But leave it to Nguyen Le to use Airbnb in order to find us a fabulous house to rent – JUST TWO BLOCKS FROM THE STUDIO. :-O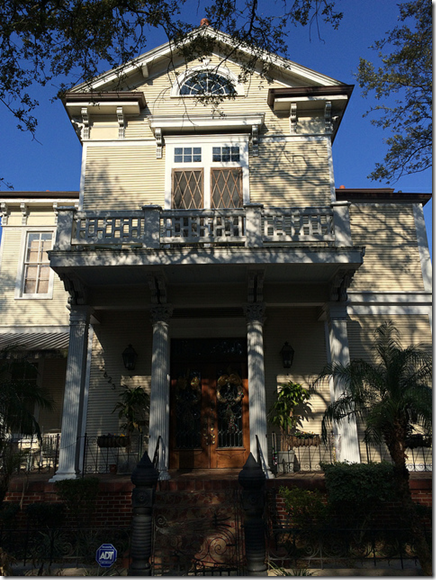 But wait, it gets even better…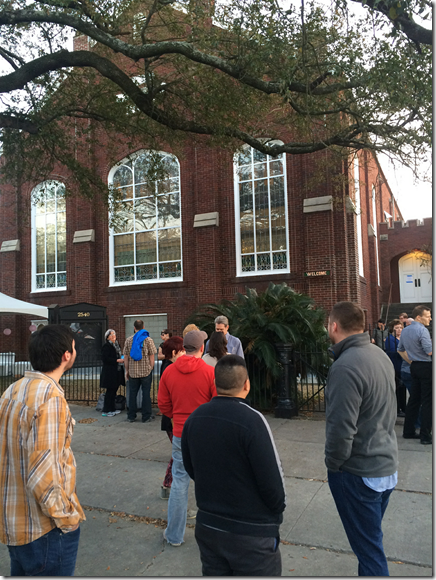 Ticket-holders were invited to a pre-recording-session reception outside of the studio. Ice cold beer in coolers was self-serve, so we helped ourselves, thank you very much. By the second beer, I needed to venture inside for a restroom where I bumped into band member Justin Stanton https://twitter.com/_justinmstanton waiting in line.
Justin is a trumpet-player and keyboard player in the band (keyboard-only during this recording), and I learned that he is a Don Ellis fan. Thus, I felt obliged to offer to send him a copy of Don Ellis dissertation: http://donellismusic.com/dissertation/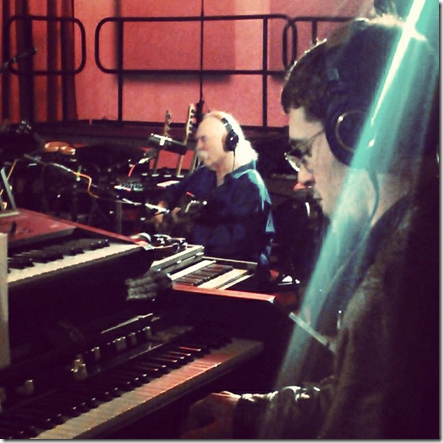 Finally, it was time to enter the studio. There was some jockeying for position to get towards the front of the line until one the managers announced that it was assigned-seating which settled the group a bit. As we walked in to the studio, we noticed that the band was set up in a big circle, with most of the audience in a concentric ring on the outside of the band. However, there were also about ten chairs set up in a mini circle on the INSIDE of the band. These seats looked to be the most immersive by far – could they be ours??? Yes, indeed. :-)
We were walked to four chairs facing the horn section – perfect for this recovering wind player – and diagonally facing Larnell Lewis and Sput (two full drum kits). However, a 360-degree turn provided a face-to-face view with EVERY member of the band and guest artist. Here is the 360 perspective from our seats prior to the artists taking their spots:
Coincidentally, we sat directly next to the three significant-others of the three guitar players in the band (Bob Lanzetti, Mark Lettieri, and Chris McQueen) – as they sat in the same order as how the guitarists were lined up.
The first artist to perform/record was Jacob Collier. I confess, I had never heard of Jacob prior to seeing his name on the Volume 2 lineup, but I now know what an AMAZING TALENT this young man is. For a sample of his skills as an arranger/composer, vocalist, and multi-instrumentalist, check out any one of his astounding video on Youtube: https://www.youtube.com/results?search_query=jacob+collier
Michael League introduced Jacob and told the audience that he was currently studying at the Royal Academy of Music in the UK and that he had written a new piece in 7/4 specifically for the recording. Jacob had absolutely breathtaking things to say compositionally with this piece. As the guy who has literally written the book on odd meters and exotic rhythms, I found myself completely lost in the time Jacob and the band were romping through (I found out later that there were occasional bars of 5 interspersed that probably threw me off, but whatever. :-) By the last note of Jacob's tune, I was left stunned and speechless.
[Side note: as soon as I returned home, I immediately sent a note to Pat Metheny about Jacob Collier – identifying Jacob as someone that exhibits so many of the characteristics Pat exudes and looks for in others, only to find out that Pat was already well-aware of Jacob. Why am I always the last to discover this kind of greatness? :-)]
Next up was Swedish Folk Band, Väsen (Roger Tallroth, André Ferrari, Olov Johansson). Michael sang this groups praises for their rhythmic sophistication within a folk music genre. Väsen performed one piece with the band and then a second piece just among themselves.
Next up was Vocalist, Chris Turner. Difficult to express in words the amount of heart and soul that his voice conveyed to the band and to the audience.
I'm embarrassed to admit that I needed to dash away for the restroom as soon as Chris was done (something they did announce was acceptable to do in between tracks during setup). This time while waiting in line for the restroom, I was able to briefly meet and shake the hand of the legendary David Crosby. However, unfortunately, I returned to the studio too late to return to my seat and had to watch Funk Pop Duo, Knower (Louis Cole & Genevieve Artadi) from the side of the studio and without headphones.
It was an interesting experience to hear the studio hall without the mix from the soundboard – it was all drums and some horns, but vocals and all the electronic instruments were not pumped through any monitors and were thus inaudible.
I scurried back to my seat for the next track featuring guitarist, Charlie Hunter along w/percussionist, Marcelo Woloski. Charlie set up directly in front of us and politely asked Nguyen Le to slide over so that he could make eye contact during the track (specifically, his guitar solo) with Marcelo. Charlie's guitar solo was such a surging energy build that when he finished improvising, I instinctively hooted at the top of my lungs with a "Wooooo!"
While this kind of behavior is perfectly acceptable in a live performance, it can cause problems in a studio environment. Thus, it triggered a quick look from Michael League at me with a stare that read "We better be able to edit that hoot out" all over it. So sorry, Michael. I was completely lost in the moment, but I should have known better nonetheless.
The next two tracks were by UK vocalist Laura Mvula (along w/ Canadian vocalist, Michelle Willis) and Peruvian vocalist, Susana Baca.
The audience cheered loudly for the final artist of the session – David Crosby. Michael introduced David as the man that needs no introduction. When David spoke, he could not have been more complimentary of Michael, the band, and the experience of the preceding week. He was giddy. He was gushing.
However, he told a rather amusing anecdote. David Crosby confessed that he had gone to Michel League after they were deep into the rehearsals and ready to start recording and explained how he felt that his song needed something more – some added sophistication – some real risk-taking. He went on to explain that Michael's reaction was something of the effect of, "Yeah, man…. Totally… Why don't you just lay out."
LOL
David went on to explain that "lay out" means "don't play" in musician jargon, which – if coming from anyone else – could be perceived as an insult. David then went on to announce that the song they'd be performing is "Guinnevere."
I noticed I seemed to be the only person in the audience that lit up with excitement over the announcement. Then I realized, I was probably the only one in this young audience OLD enough to know this tune from 1969. Fascinating back-story of this tune is on Wikipedia:
http://en.wikipedia.org/wiki/Guinnevere
On the way out of the studio, I was able to shake hands and congratulate Cory Henry, Larnell Lewis, and Shaun Martin.
Our tickets also included access to a brief reception afterward, outdoors in front of the studio where the pre-recording session had also taken place. More free beer. Nice. :-)
Here I got the opportunity to meet saxophonist Jeff Coffin and explain that I felt I practically knew him already from watching him countless times in the Victor Wooten + Carter Beauford "Making Music" DVD, which is great. http://www.amazon.com/Victor-Wooten-Carter-Beauford-Making-Music/dp/B00006LRT2
I also got the chance to speak with Michael League. Here's what I said…
"So, we meet again Michael League. I must tell you that it's quite peculiar to have you as a musical hero when you are at least 15-years younger than me."
Michael laughed, put his hand on my shoulder and said, "I think you need to raise your bar."
We both laughed.
The only way to describe this entire experience is…
#Transcendent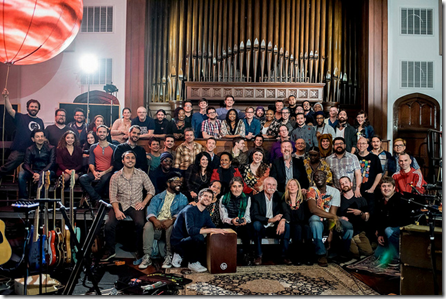 ---