About Jacob Collier, JacobCollier.com, and "Don't You Know" from Snarky Puppy Family Dinner Volume 2
By Sean Fenlon on February 15, 2016
---
WOW, where do I begin?
According to the Jacob Collier Facebook Page, Jacob Collier was born on August 2, 1994 in England. Thus, he's 21-years old at the time of this writing. He's been legally eligible to purchase alcohol in the USA for about six-months.
I have only known about Jacob Collier for a little over a year. On February 12, 2015, I was preparing an itinerary and researching an upcoming trip to New Orleans on Valentines Day to see the live recording of Snarky Puppy Family Dinner Volume 2.
I prepared and consolidated all of the information into a single email in order to make it convenient for myself and my travel-mates Matt Fraser and Nguyen Le. As a cool new use-case of my new tech company Abovo42.com, I forwarded the complete email to Post@Abovo42.com thus creating this page on the Internet: http://www.abovo42.com/seanfenlon@gmail.com/215 (one of the first posts EVER on Abovo42 — still as a working prototype at the time):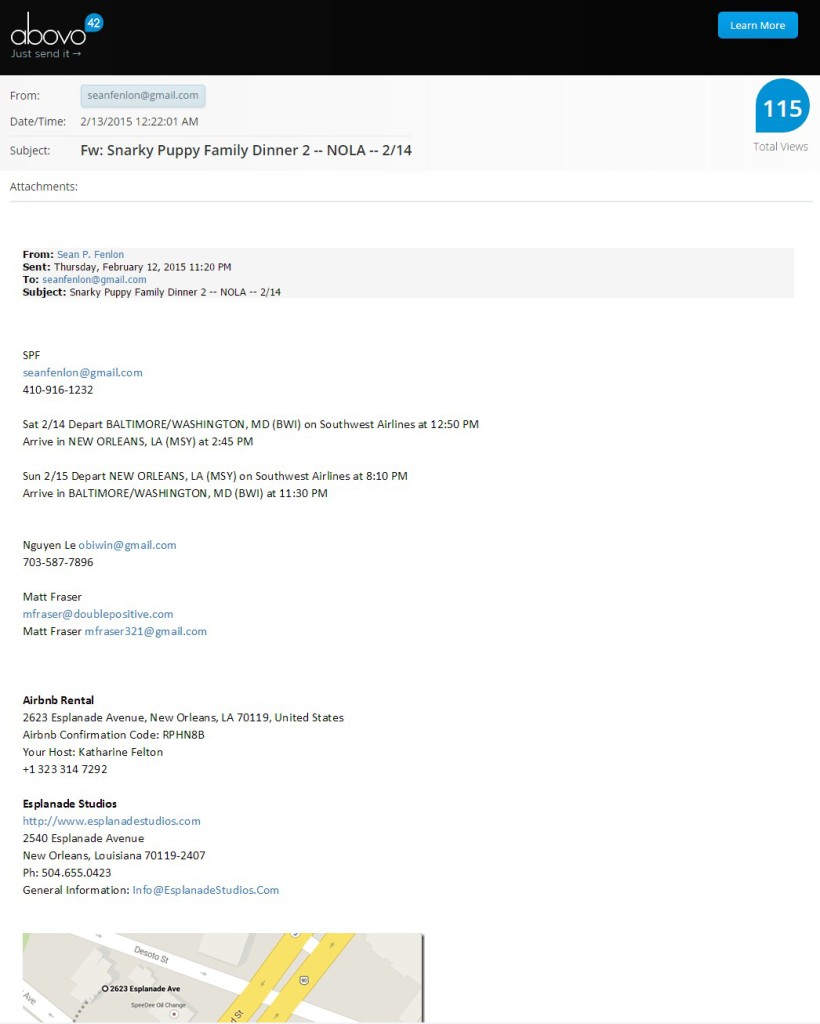 In the email, I included Youtube links to the guests artists that Snarky Puppy had invited to perform on their much-anticipated Family Dinner Volume 2 recording.
Jacob Collier was on the list. This was the first time I had ever learned about Jacob Collier or heard his music. It will be a day I remember forever, the same way I remember the first time I heard the music of Don Ellis, Pat Metheny, and Snarky Puppy.
The video I included in this fateful email was Jacob Collier performing his own arrangement/production of the Stevie Wonder Classic "Don't You Worry 'Bout a Thing."
At the time of this writing, this particular video has earned 1.2MM views. I could do an entire post about how amazing this video is on so many levels (brilliant song choice, arrangement, harmonic sophistication, vocal harmonies, vocal performance, multi-instrumental performance, improvisation, video production, amazing creative imagination in general, etc.), but I'll just let the Youtube comments on this video speak for themselves.
What was particularly thrilling was knowing that I was two days away from actually MEETING this amazing talent live and in person during the Snarky Puppy Family Dinner Volume 2 recording. As you can imagine, I was highly-anticipating the entire recording experience, but was particularly eager to learn what a Jacob Collier + Snarky Puppy collaboration might sound like.
The entire experience of the Snarky Puppy Family Dinner Volume 2 is well-detailed in this post I published soon after returning from New Orleans:
Here are my words from that post about Jacob Collier specifically:
The first artist to perform/record was Jacob Collier. I confess, I had never heard of Jacob prior to seeing his name on the Volume 2 lineup, but I now know what an AMAZING TALENT this young man is. For a sample of his skills as an arranger/composer, vocalist, and multi-instrumentalist, check out any one of his astounding video on Youtube: https://www.youtube.com/results?search_query=jacob+collier

Michael League introduced Jacob and told the audience that he was currently studying at the Royal Academy of Music in the UK and that he had written a new piece in 7/4 specifically for the recording. Jacob had absolutely breathtaking things to say compositionally with this piece. As the guy who has literally written the book on odd meters and exotic rhythms, I found myself completely lost in the time Jacob and the band were romping through (I found out later that there were occasional bars of 5 interspersed that probably threw me off, but whatever. :-) By the last note of Jacob's tune, I was left stunned and speechless.

[Side note: as soon as I returned home, I immediately sent a note to Pat Metheny about Jacob Collier – identifying Jacob as someone that exhibits so many of the characteristics Pat exudes and looks for in others, only to find out that Pat was already well-aware of Jacob. Why am I always the last to discover this kind of greatness? :-)]
I found out about Pat Metheny's awareness of Jacob via his own website at: http://www.jacobcollier.co.uk/ when I read this quote:

Other equally-complimentary quotes about Jacob Collier on his website are from:
After the epic experience of seeing the live performance and recording of Jacob Collier w/Snarky Puppy on his original composition "Don't You Know," I went about the agonizing wait for the recording to be mastered, produced, and released.
I numbed the pain of the wait by exploring all the other Jacob Collier videos on Youtube: https://www.youtube.com/results?search_query=jacob+collier, including:
On September 28th, I was fortuitously sent an email from Youtube notifying me of a new video from my Jacob Collier Channel subscription. I used my new company Abovo42.com again to forward this Youtube email and to add some color in the body of the message:
http://www.abovo42.com/seanfenlon@gmail.com/43474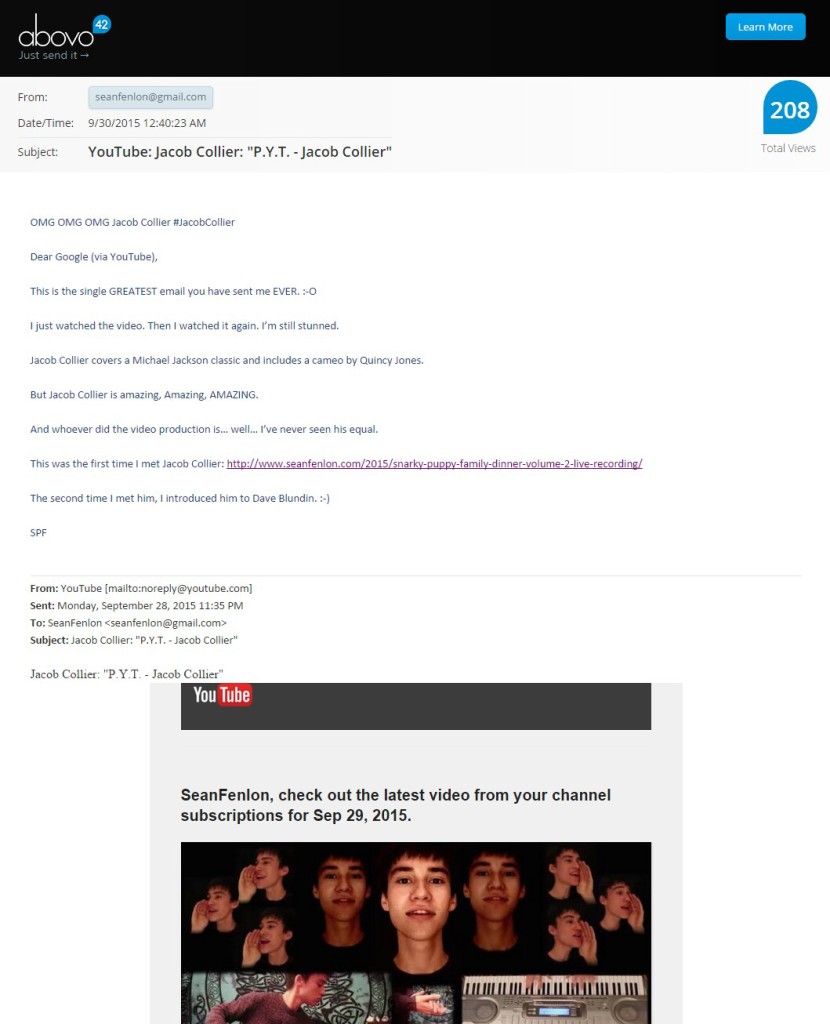 In the Abovo42 post above, I mentioned that "the second time I met [Jacob Collier], I introduced him to Dave Blundin." What is so ironic in a circular recursive way is that that meeting was purely coincidental. I was in Cambridge, MA to present my vision for Abovo42 to my future Abovo42 Corporation business partner (Dave Blundin) at a popular MIT restaurant, Craigie on Main. It was an exceptionally busy night for a Tuesday and we had to wait for our table in a stairway/corridor that led into the bar area.
I saw a new group check-in with the hostess, and one member wore a very distinctive hat: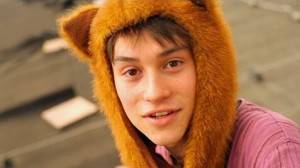 I immediately knew who it was. As he walked passed, I introduced myself again and introduced him to Dave Blundin, describing him as "the next Pat Metheny." :-)
When I asked what in the world was he doing in Cambridge, MA, Jacob explained that he was working with MIT. Probably part of this engagement described on his website:

On November 23, 2015 around noon, the Snarky Puppy Family Dinner Volume 2 trailer was released to the public on Youtube:
http://www.abovo42.com/seanfenlon@gmail.com/44688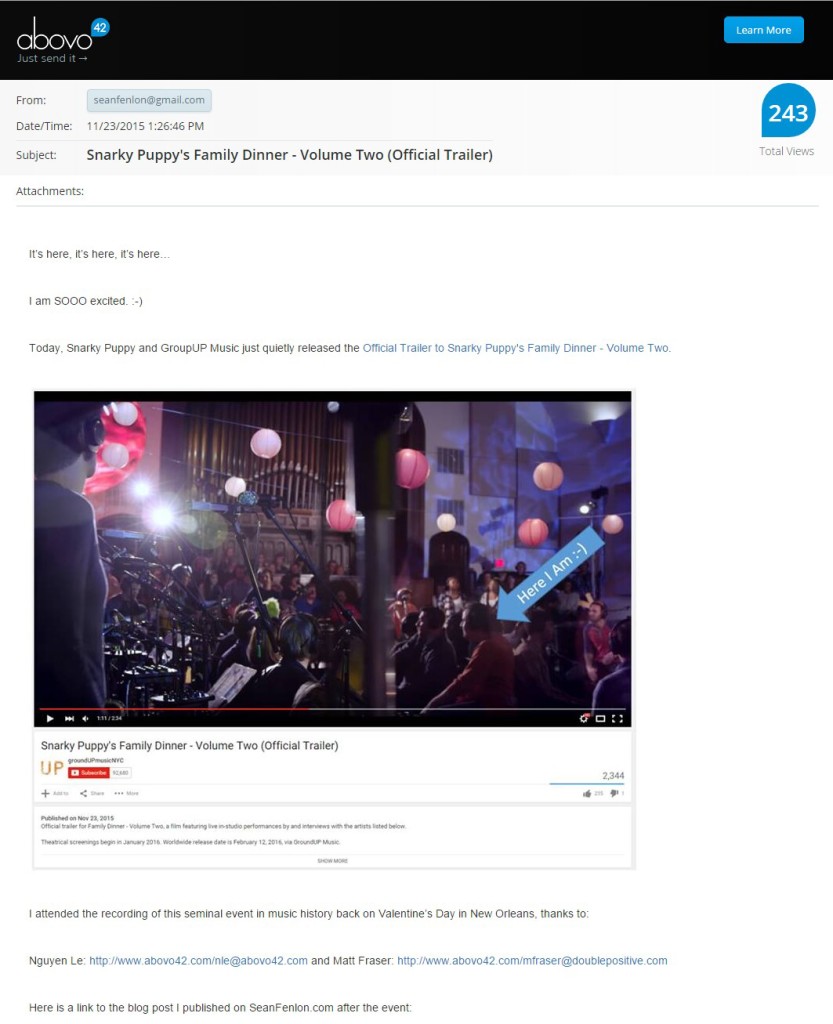 I was SOOO excited to hear the music from the New Orleans recording again for the first time in nine months. I was also pretty excited to see we made it into the trailer (for a few seconds, at least). :-)
Immediately after our brief appearance in the trailer, there is a brief passage of Jacob Collier describing his composition:
"I'm kind of up for… moving things around and painting this whole great big colorful thing."
…which immediately dovetails into a few seconds from the climax of his epic work "Don't You Know."
Michael League and the band promoted the final release of "Family Dinner Volume 2" by presenting private screenings of the full DVD is various cities (in full movie theaters). We were quick to buy several tickets to the screening in DC, which included a cool half hour Q&A with Michael League at the end. On my way out of the Men's restroom after the show, my path intersected with Michael League's in the lobby.
I asked, "Hey Michael, are you doing any pictures?" He said, "Yeah man, for you." in his friendly way, which led to this pic for the ages:
http://www.abovo42.com/sean@abovo42.com/45689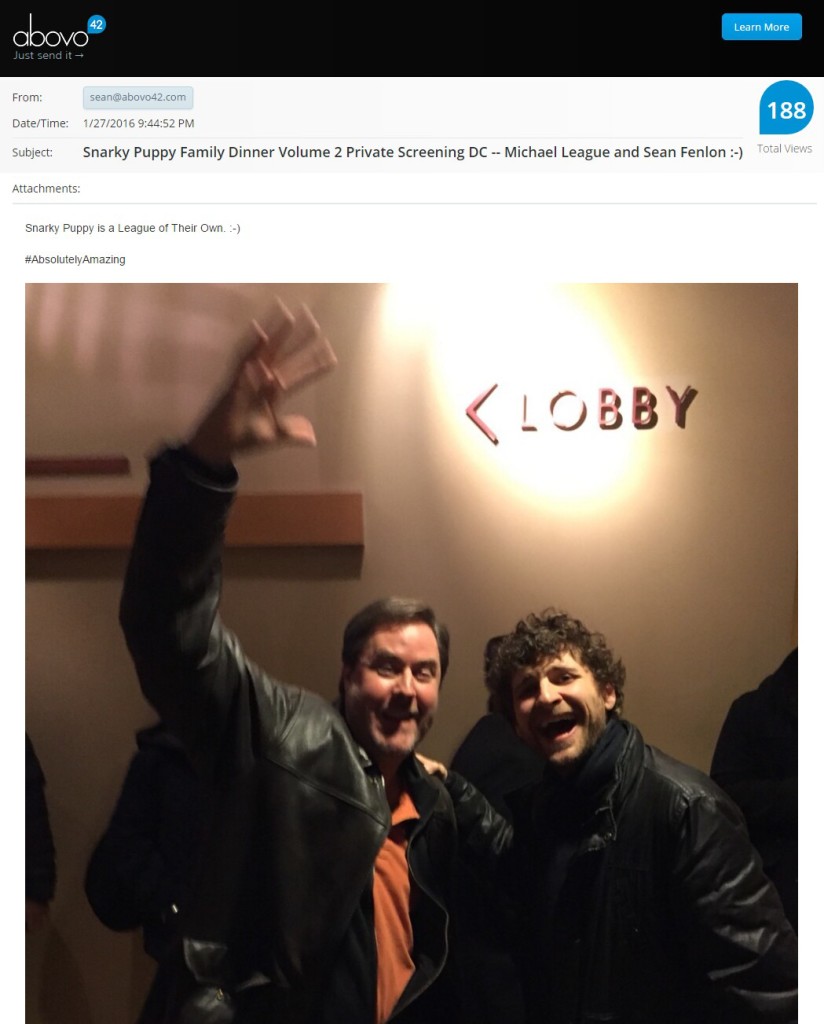 This was my third time meeting Michael League, and in the brief few moments we chatted, I said "Michael, Jacob Collier is unbelievable. You have to find more opportunities to work with him. Your collaboration unlocks the magic of the universe."
He smile and nodded in solemn acknowledgement.
NOW, the story finally comes to Friday, February 12th, 2016 and the official FULL RELEASE of Snarky Puppy Family Dinner Volume 2 featuring Jacob Collier's "Don't You Know."
The release includes sales of the music (and DVD) on:
TIDAL
Like all recorded music from Snarky Puppy, each individual track will be released as a video on Youtube of the live recording in the studio, but at the time of this posting, the only videos from the recording that have been released are:
However, you can now listen to Jacob Collier – "Don't You Know" via all the services listed above, but I highly recommend purchasing the DVD in order to capture all the dramatic energy of the live recording for yourself.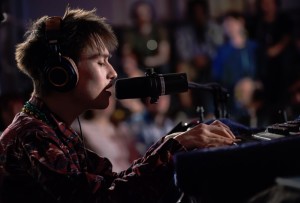 This composition is an epic tour de force. I consider it a seminal event in the history of modern music. Music professors 100-years from now may be teaching this specific track as the intersection of vocal pop music, instrumental music, jazz, funk, 20th Century classical, and exotic rhythms/meters from non-western cultures. But despite all that heady sophistication, it just rocks, it just grooves, it just sings. It's brilliant, sophisticated, AND accessible to virtually any music lover. This is extraordinarily rare which is why I call this particular track a seminal event in modern music.
A quick search on Twitter for "Jacob Collier Don't You Know" yields some reactions that are consistent with my assessment: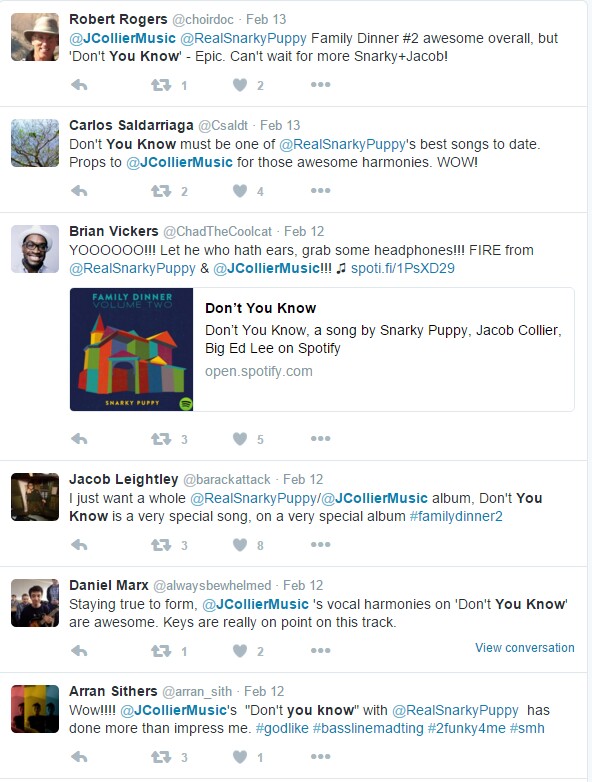 While there is greatness on EVERY track of this release, many will argue that "Don't You Know" is the centerpiece — the crown jewel of the recording. Objectively-speaking, it's by far the longest track on the recording, clocking in at 10:43.
I was shocked to learn that Family Dinner Volume 2 already has its own Wikipedia article: https://en.wikipedia.org/wiki/Family_Dinner_-_Volume_2, but Jacob Collier does not. What??? I suppose that's why I took the time for all the details and the links in this post — to help spread his name online.
I plan on continuing my appreciation of all things Jacob Collier (hopefully with more Snarky Puppy collaborations) and I plan on honoring his life and his art the same way I have all of my other musical heroes — via fansite/blog.
Here's my personally-published blog roll:
Don Ellis: www.DonEllisMusic.com
Pat Metheny: www.PatMethenyMusic.com
Snarky Puppy: www.SnarkyPuppyMusic.com
Bobby McFerrin: www.BobbyMcFerrinMusic.com (site/blog coming soon)
Hank Levy: www.HankLevyMusic.com (site/blog coming soon)
For the Jacob Collier fansite/blog, I registered JacobCollierMusic.com to keep the domain name pattern consistent, but I also acquired JacobCollier.com which is even better. I'll point that domain at this specific page until I am able to launch the full site/blog on the domain.
SPF
UPDATE: After arranging for a private one-man-show concert with Jacob in 2016 at The Johns Hopkins Club, I offered the JacobCollier.com domain to Jacob as a gift. My only request was access to front-row seats at all of his live events in the future. :-)
Jacob graciously agreed and his new website was launched today January 4, 2017 on his new www.JacobCollier.com domain and it looks absolutely amazing. I have not yet built a fan blog on www.JacobCollierMusic.com yet, but I did forward that domain to a subreddit on Reddit.com that I created last year and now moderate: https://www.reddit.com/r/JacobCollierMusic/ :-)
---
Mini-missive: Formal Analysis of "Don't You Know" by Jacob Collier
The track opens with a mechanical synth pulse of perfect fourths.
Meter and time signature are intentionally obfuscated (but I believe this section is all in a straight-ahead 7)
Percussion instruments and acoustic piano sporadically enter with the graceful texture of ether — like a nebulous cloud of fog floating in. Cory Henry's Hammond B3 organ makes a few subtle comments in the background as well.
Michael League's bass line enters around 30-seconds in with a descending fourth pattern of three eight-notes per pitch. The ear finally feels anchored by a root, but being in 7, the anchors do not create structural symmetry. Sometimes called an "inside/out groove," it's like the auditory equivalent of an M.C. Escher work:
Very cool intro.
The Jacob Collier multi-vocal-harmonies burst out around the 1-minute mark, articulating the main theme.
Classic funk/R&B textures and rhythms support the vocal harmonies, but in a laid-back straight ahead 7/4, which makes everything feel fresh… new… unpredictable. Jacob Colliers piano fills and Cory Henry's organ responses provide the choir counterpoint to preacher Jacob's vocals.
The driving B-section kick into a steadily-driven double-time straight ahead 5/4 (this is the section that threw me off when I heard it recorded live) then right back to the A-section in 7, but this time with the vocals now doubled at the octave (and hauntingly-cool piano harmonies float over top).
A turnaround derived from the intro and it's right back at the top of the head for a repeat of the chorus (with added horn punches and even more daring vocals harmonies on the repeat).
The development/solo section begins like the intro but this time announces Jacob's ethereal piano solo — incredibly light touch, sparse texture, and melodic — almost like the union of Keith Jarrett, Ahmad Jamal, Brad Meldhau, and Lyle Mays. As best I can tell, the entire solo stays in 7, but between the rhythm section and Jacob, they float as far away from the tyranny of barline as can be imagined, only to bring it all back together with a driving build of intensity until it settles in with the opening descending fourths bass line.
The recapitulation modulates to a new key, but the pickup notes are in the original key (after writing this, I learned directly from Jacob that the pickup notes and intervals are indeed in the new key, not the original key) — surprising the listener by disrupting the listener's expectations. The chorus now pounds away with a flurry of Tom Tom dialog between the two (yes, two) drum sets of Sput and Larnell Lewis. Oh and can we get a side of some funky 70's guitar comp to color it along with the horns please. :-)
The 5/4 B-section in the recap features a nice trumpet counterpoint line.
In the final statement of the A-section, Jacob quiets down the lyrics/texture and takes the vocal harmonies out to a whole new dimension while accompanying himself on acoustic piano before leaping into the climax. WOW.
The final vamp was the perfect arrangement of energy given the Mardi Gras + New Orleans environment it was recorded in. Sousaphonist Big Ed Lee doubles the bass line to set a foundation for a big steady march (in 7/4!) down Bourbon Street with every instrument (horns + 3 guitars + 2 drummers + percussion + 4 keyboards + 3 backup singers) contributing to what can be described as Dixieland meets Jam Band meets full vocal glory.
The coda outro whispers itself away as gracefully as the piece began before a descending waterfall of angelic vocal "oohs" puts it to sleep.
#Transcendant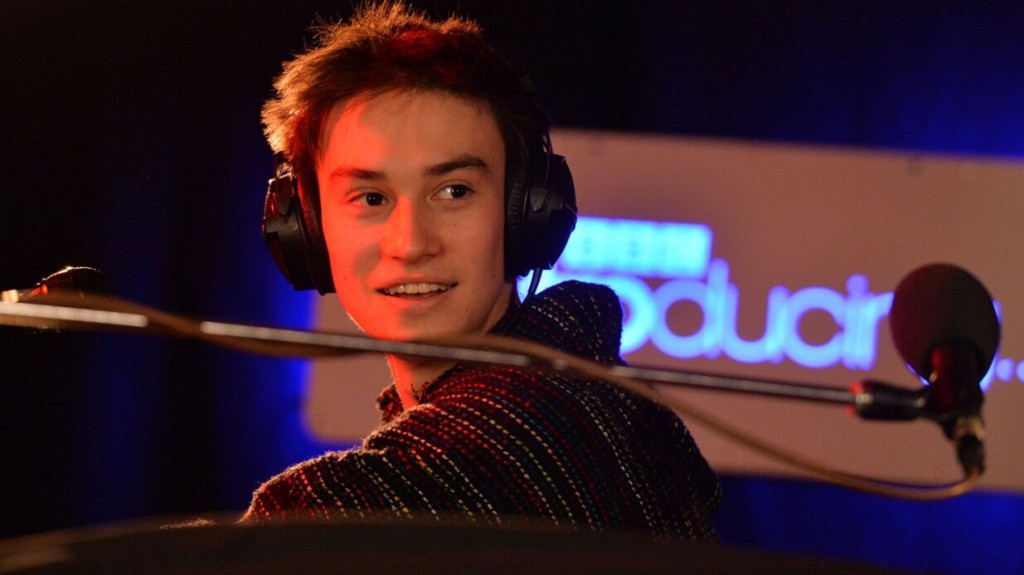 ---