GroundUP Music Festival 2017 – Video Compilation and LONG Blog Post :-)
By Sean Fenlon on February 15, 2017
---
The Past is Prologue: https://www.youtube.com/watch?v=9V9OREZH7uw

Hello.
It's me.
My name is www.SeanFenlon.com – you are here. :-)
Long before I defined myself as an Internet/Tech Entrepreneur, I defined myself as a musician.
For decades, I have maintained musical obsessions with brilliant band leaders who were so adventurous with their art and their ensembles that they were also essentially entrepreneurs.
I studied composition with the legendary Hank Levy, who turned me on to the music of Don Ellis. I went on to write my Doctoral Dissertation at The Peabody Institute of The Johns Hopkins University on The Exotic Rhythms of Don Ellis:
http://donellismusic.com/wp-content/uploads/2014/03/TheExoticRhythmsOfDonEllis-Dissertation.pdf
Hank Levy also introduced me to the music of Pat Metheny, whose music and life obsessed about for decades – going so far as to build www.PatMethenyMusic.com – a fan site to celebrate the art of this living legend.
During the 90's and 2000's, my adoration of Pat Metheny's music was supreme – I was frequently introduced to new and interesting things, but nothing could achieve the same status in my ears of the music of Pat Metheny (as my family and friends will agree, with great exasperation :-)
I had a brief obsession with Bobby McFerrin – his "Try This At Home" Concert video in particular, followed by the vocal harmonic richness of his 2010 recording "VOCAbularies."
But generally speaking, despite the prolific oeuvre of both Maestros Metheny and McFerrin, I was starving from a great new music discovery perspective.
Then one fateful day in early 2014, my good friend and team member Rich Dent sent me a link to a Snarky Puppy video and a new obsession was born: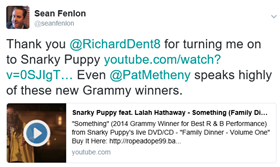 Months later, I knew the entire Snarky Puppy catalog by heart, had memorized all their DVDs (including the documentary interviews included) and saw my first Snarky Puppy live performance on September 26, 2014 – all of which is documented here:
http://www.seanfenlon.com/2014/the-michael-league-group-aka-snarky-puppy/
Subsequently, I was fortunate enough to be an audience member during the recording of Snarky Puppy Family Dinner Volume 2 in New Orleans on February 14, 2015 – all of which is documented here:
http://www.seanfenlon.com/2015/snarky-puppy-family-dinner-volume-2-live-recording/
It was while reviewing the artists invited to Family Dinner Volume 2 that I encountered a Jacob Collier video on YouTube for the first time – all of which is documented here:
http://www.seanfenlon.com/2016/about-jacob-collier-jacobcollier-com-and-dont-you-know-from-snarky-puppy-family-dinner-volume-2/
In February 2016, I purchased tickets to a Private Screening in DC of the release of Snarky Puppy Family Dinner Volume 2 video, whereI characteristically stalked Michael League into the Lobby for this rather opportunistic pic afterwards: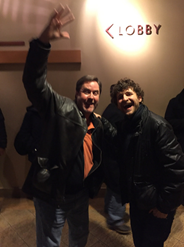 In March 2016, I caught Michael League again – this time after he was playing as a side man for Sir Bill Laurance at The Bethesda Blues & Jazz club: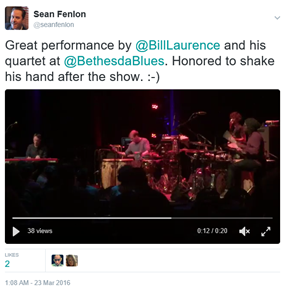 This time I had a longer conversation with Michael League than previous encounters (over a couple of IPA's). We talked a good deal about both music and business. I explained that I'm a member of a group called YPO – Young Presidents Organization: https://www.ypo.org/why-join-ypo/membership-criteria/
In May 2016, I was able to bring fellow-musicians and music-loving fans who are also members of my YPO Group to the same club for Snarky Puppy performance promoting the new Culcha Vulcha release. Naturally, I introduced them all to Mike after the show: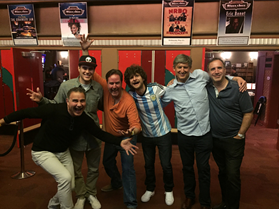 I did something similar two weeks later with my business partners in the Boston area when Snarky Puppy performance at The House of Blues next to Fenway Park.
Along the way, I also became BFF with Jacob Collier and had the absolutely pleasure of hosting Jacob on 9/30/2016 for a Private Concert – the full one-man-band sensation enabled by Ben Bloomberg – for our local YPO Group and their families at The Johns Hopkins University Club in Baltimore, MD:
When the first annual GroundUP Music Festival was announced, I was ecstatic. I immediately purchased the "All-in VIP Pass," because I was… well… ALL IN. :-)
I tried to lure several different friends and colleagues to join me (I hope you guys are all reading this :-), but ultimately traveled solo to Miami, arriving the night before the event on Thursday, February 9th.
Michael League is My Hero

I have had the pleasure of working closely with some of the world's greatest CEOs. I can say without reservation that Michael League is absolutely one of the greatest CEOs I have ever observed, as well as one of the greatest artists I have ever encountered.
I once compared Pat Metheny to a CEO in an Open Thank You Letter, but as a CEO, Michael is in a different <ahem> League. :-)
Snarky Puppy is now more than a band, and GroundUP is more than a record label. The entire construct – now including the annual music festival – is a well-diversified MEDIA company, with multiple business segments and profit centers.
Putting aside his amazing skills as a bass player, educator, songwriter/composer, bandleader, organizer, etc. for a moment, he does things that ALL GREAT CEOs do…
1. Lead – with vision AND lead by example

Snarky Puppy, GroundUP Music, and the music festival are all products of Michael's vision
He's the energizer bunny – the hardest worker I've ever observed and stays super fit at all times. I counted him on stage on at least 10 of the festival performances on Bass, Baritone Guitar, and Vocals, but also never stopped moving or smiling.
He's a charming and charismatic front man of Snarky & GroundUP – knows how to read a crowd and work a crowd effortlessly
2. Sell
I've noticed that Michael heads straight to the Merch Counter to promote sales through engagement, pics, chats (with direct attention and eye contact) after ever live performance, at a time that others would be exhausted. He's also found countless ways to grow/expand his empire without selling out. Not easy.
3. Recruit, Recruit, Recruit
Pups, Artists for the Labels, Execs for GroundUP, Partners, etc. – the best recruiters are always the best CEOs.
Bundle these attributes with extreme humility as an artist and a leader and you have a world-class CEO.
Most artists that performed at the festival called out Michael League by name, praised him, honored him, and thanked him profusely and he automatically dismissed the attention and guided the spotlight back to the performing artist. During the last performance of the Festival, Shaun Martin announced to the crowd that Snarky Puppy was (for the 3rd time) a Grammy Award winner (announced just hours earlier). Michael humbly acknowledged but was quick to point out that Jacob had won two.
During an after-hours performance on Friday night (errr… Saturday morning) by Jacob Collier – and after a glass or two of wine perhaps ;-) – I mentioned to Michael that a media business like his could raise huge amounts of outside capital for faster growth, but that outside capital can and usually does change things. It's an area where I have a lot of experience, so I have offered to help if he considers that path, but Michael is growing his business(es) so fast without any outside capital, I suspect he will continue to grow organically his way. :-)
A special heartfelt THANK YOU to Michael League for everything he has done, culminating in the manifestation of his vision for the FIRST ANNUAL GroundUP Music Festival. A profound musical experience for me. Also, special shout out to the GroundUP Staff and all the other individuals that contributed to the production of the show. All your hard work was clearly evident at every step of the way and was appreciated beyond words.
I assembled all the short video clips I took during my time in Miami into one long (83-minutes) YouTube video: https://www.youtube.com/watch?v=ou0IwM1JavM&t=1525s
The sections below document each performance I captured with links to the section of the video being described.
Arrival in Miami – Night Before the Festival

I arrived Thursday night, checked in to the legendary Deauville Hotel. The Deauville is famous for being the second US performance venue by The Beatles in 1964, second only to The Ed Sullivan Show. After checking in and dropping off my bag in my room, I cruised down to the lobby lounge around midnight. Soon after, I noticed Bob Lanzetti ordering some liquid caffeine as a pick-me-up before a long late-night rehearsal he was headed to.
I had never met Bob before, even though I sat diagonally across from him at the Family Dinner Volume 2 recording session. Thus, I introduced myself and insisted on picking up the tab on his caffeine. I told him how devastated I was that his improvised guitar cadenza during the intro to David Crosby's "Guinnevere" got chopped from the Family Dinner Volume 2 recording. It was mesmerizing and his guitar tone is rich and unique. Bob also told me about a solo recording he's releasing soon. I asked if he had a band name or would go with The Bob Lanzetti Group. He said probably just "Bob Lanzetti" for this first solo release. Can't wait for that to come out.
Just as Bob headed off to his rehearsal, I bought a Heineken to send with him for Michael League (since they didn't have any IPAs – the bar tender didn't even know what an IPA was :-S
After Bob walked away, I noticed wind-player Carlos Malta at the bar – instantly recognizing him from Family Dinner Volume 2 – and insisted on picking up his tab as well. He came over with his two friends. As they got closer I recognized one of the friends as percussionist Bernardo Aguiar – also from Family Dinner Volume 2. The other friend was Brian Potts, a super-cool percussionist from Miami that had earned his Doctorate in Music from The University of Miami.
They said that they wanted to listen in on the rehearsal that Bob Lanzetti had just headed off to and invited me to join them. And guess what… I just said yes. :-)
This is where the video clips and descriptions begin. Simply click on the "Jump to" times or on the images below.
Bokanté Rehearsal

(Jump to Start of Video: https://www.youtube.com/watch?v=ou0IwM1JavM&t=1525s)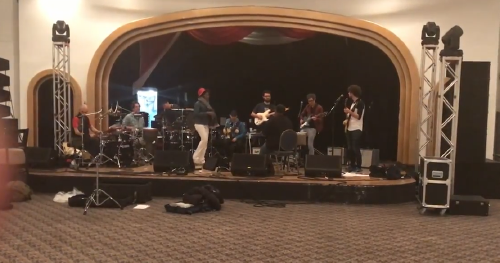 Bokante (Rehearsal)
Bokanté is an experiment conceived by Michael League – the process of formation was all but conventional. The word bokanté means "exchange" in Creole (the native language of Guadeloupe). The music goes from Zeppelin-esque blues stomp to folkloric Caribbean kaladja at will, blending the extensive and varied knowledge of the individual players with a strong, yet empathetic, lyrical approach.
They were rehearsing for their Sunday night LIVE performance debut at the Festival (which I would miss). I had watched their first video release on YouTube a bazillion times already: https://www.youtube.com/watch?v=X-DoGgMTfiY, but it was a real treat to hear part of this rehearsal live. This is truly music like no other.
Jump to 0:10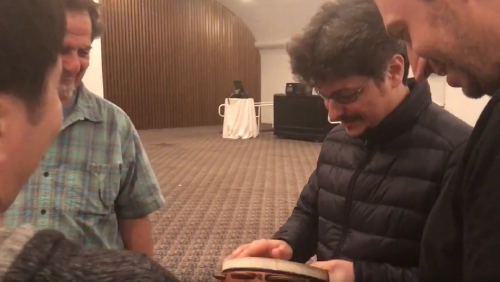 After the rehearsal wrapped up the two percussionists from Bokanté (Jamey Haddad and Keita Ogawa) gathered with four percussionists that were spectators — the aforementioned Bernardo Aguiar and Brian Potts along with Marcelo Woloski (also of Family Dinner Volume 2) and Felix Higginbottom (percussionist for Bill Laurance).
There was a very cool energy in this salon of percussionists. And – as percussionists will do – they started talking and laughing about percussion – a tambourine in particular, which made it into the hands of Bernardo. Watch the video to see what happens next. :-)
I was in heaven already with front row seats to spontaneous music. Wasn't the last time — see below. :-)
GroundUP Music Festival Day-1 (Friday)

Jump to 0:47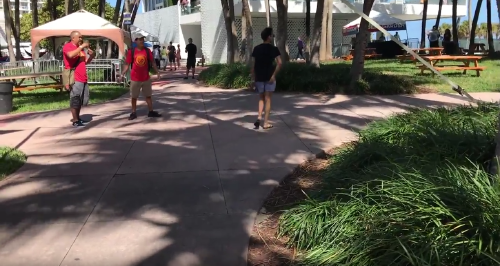 Un-narrated first walk-through of the Festival immediately after gates opened…
I start the video having just passed the Park Stage on my left. The huge building on the right was where the workshops were held (on the bottom level) and the VIP & Artist-only Area on the second level, including an awesome wraparound balcony which allowed for great views of the Park Stage and the Atlantic Ocean (but not the main stage). Again on the left are the hammocks and merchandise booths. Finally, I proceed into the main stage for the first performance.
The day's lineup was posted as follows: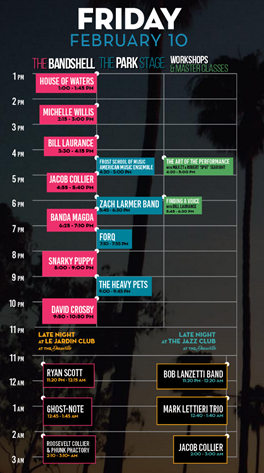 Special note that I committed myself to attending all the performances at both The Bandshell and The Park Stage. The Festival deliberately did not schedule any overlapping performances, so that the audience would not have to choose between live performances. The timing was exquisitely well-executed – as soon as The Bandshell artists would leave the stage, the first notes of The Park Stage next performance could be heard. This approach, however, prevented me from attending/observing any of the scheduled Workshops at the festival, which is a bummer – but I'll take a live performance over a Workshop any day. :-)
Also note that I flew home early Sunday afternoon, thus missing all of the Sunday performances, which was tragic but unfortunately necessary.
Jump to 1:44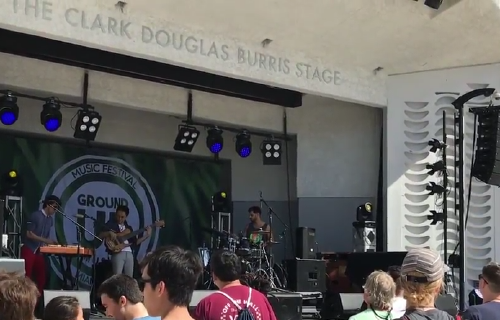 House of Waters was the very first performance of the festival – no pressure guys. ;-)
I had watched all of their amazing YouTube videos countless times: https://www.youtube.com/results?sp=CAM%253D&q=house+of+waters
But as is often the case, it just doesn't hold a candle to experiencing their live performance. This group will be opening for Snarky Puppy in their European Tour this summer. And talk about charismatic CEO-like bandleaders, Max ZT's oozes competency and evokes high-octane intensity. Super-smart guy from Chicago, now based in New York. I had the pleasure of chatting with him after their performance and confessed that I was a chronic hater of all bass solos until I heard the MAGIC that Moto Fukushima put forth from his 6-string Bass. I shared with him a text message I sent to my wife Terri right after their performance and her hilarious reply: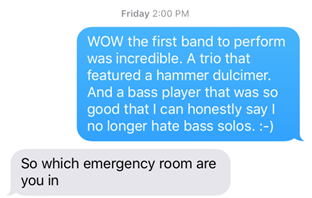 More on House of Waters, Max ZT, and Moto Fukushima in the clips and description of their late night performance below.
Jump to 2:12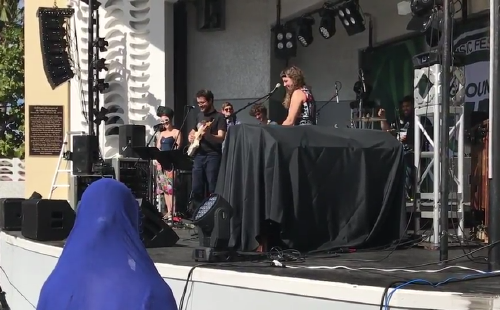 Michelle Willis accompanied by:
Michelle Willis is a lovely vocalist and was part of Family Dinner Volume 2, but as a backup singer to Laura Mvula. Although she did a delightful duet with Michael League in the bonus section of the DVD.
During her performance, she explained how Michael League always impresses her with his philosophical knowledge and recommended a book. In that book was the statement, "Your soul is the battlefield of your reason and your passion." Hmmm… sounds sufficiently cerebral, so I Googled the line in order to find and buy this book being cited. However, when I Google the line (in quotes), all I get is links to Michelle Willis. :-S
https://www.google.com/?gws_rd=ssl#q=%E2%80%9CYour+soul+is+the+battlefield+of+your+reason+and+your+passion.%E2%80%9D
What's going on here Michelle (and Michael)? What is the title of this book? Please let the Internet know. :-)
Jump to 3:28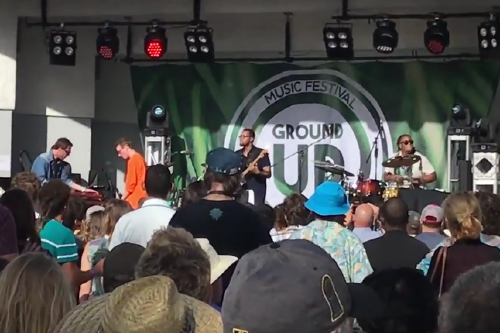 Bill Laurance accompanied by:
In his closing words to the crowd, Bill exclaimed "This is Bonkers." Later in the day, Jacob Collier would comment that "he has had the most Bonkers day" and when asked to comment on winning two Grammy Awards on Sunday, Jacob's one and only comment was "Bonkers." I guess it's a British thing. :-)
Jump to 4:58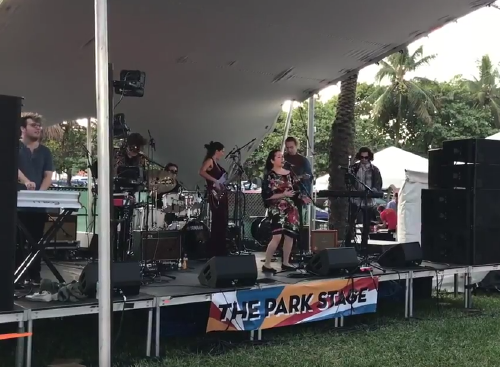 Frost School of Music – American Music Ensemble

??? – Vocals
??? – Keyboards 1
??? – Keyboards 2
??? – Bass
??? – Guitar 1 (Lead?)
??? – Guitar 2 (Rhythm?)
All students from The Frost School, I assume. This is from their website:
"The American Music Ensemble is comprised of the top performing songwriters in the Bruce Hornsby Creative American Music Program at the Frost School of Music. This elite group of artists composes, arranges, and performs their own original music, accompanied by a contemporary, professional-level rhythm section made up of instrumentalist from all areas of the Frost School."
Incredibly seasoned and mature sounding performance for an assembly of music students. :-O
Jump to 5:22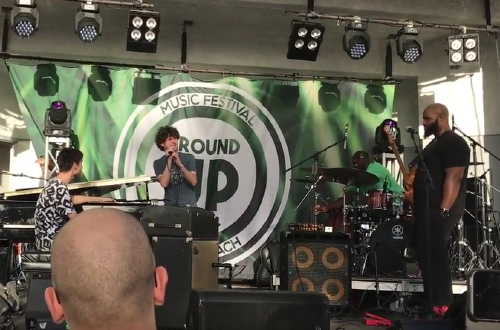 "Please welcome – the one… the only… the person that makes us all feel bad about ourselves. Jacob Collier." — I later gave Michael League grief about this — I believe he can make us all (even GroundUP musicians) feel BETTER about ourselves. :-)
They opened with the George Benson classic, "On Broadway," The original is in 4/4, but Jacob performs this tune in 9/8, subdivided 2223. Larnell Lewis was on it from the start. It appears it took AJ Brown a few cycles to feel it.
Jacob quoted musical passages from his (soon-to-be-Grammy-Award-Winning-Song) "Flintstones" and also "Hideaway" during his improvised solos. I later confirmed both with Jacob afterwards, but Jacob seemed quite unimpressed that I appeared to be the only one who picked up on the quotes. ;-)
"I've had a pretty 'bonkers' day, to put it in a very British way. I lost my wallet and my passport" — there that "bonkers" term again.
Jacob's one man show postponed until 2AM at The Deauville — see below.
"Blackbird" – appeared to be a request from the crowd.
Jacob also performed "Feel Like Making Love" but COMPLETELY re-imagined.
Jacob then invited his good friend and special guest Becca Stevens  (Vocals and Ukulele) on stage to perform a Steve Wonder cover "As" (Always).
Jump to 10:19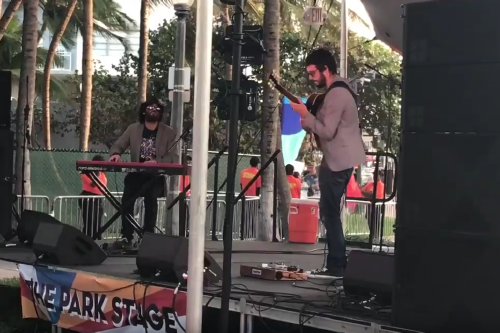 My first time listening to Zach Larmer and his band.
Jump to 10:36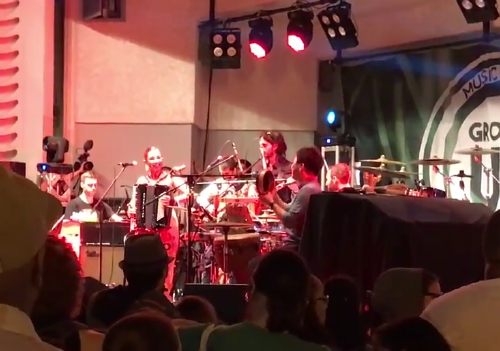 Dance the Salsa w/ requisite hand claps turned into a merengue — nice. :-)
Magda has an AMAZING stage presence.
The crowd was treated to a live performance of "Amour, T'es Là?" the tune she recorded with Snarky Puppy on Family Dinner Volume 1.
She gushed over special guest percussionist Jamey Haddad, calling him a "Mentor" and responsible for them all being together.
??? – Special Guest — Baseball Hat Percussionist
Also joined by Snarky Puppy Horns – Chris Bullock, Jay Jennings, and Mike "Maz" Maher
Jump to 15:27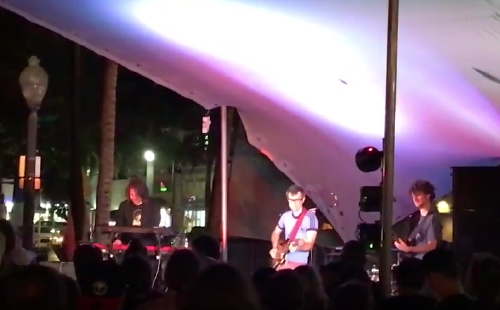 Performing selections from their excellent sophomore release.
Jump to 16:29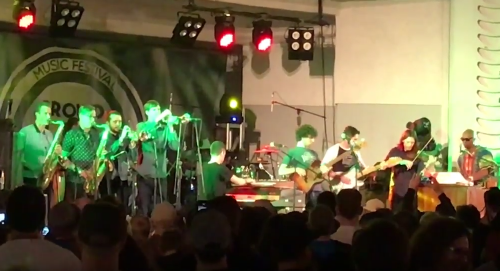 I founder Nate Werth in the audience of a Snarky Puppy performance. I was confused — I've never seen a Snarky Puppy performance without Nate Werth. Nate explained how the band would cycle through all the musicians over the three nights of performances. The first night belonged to Marcelo Woloski on percussion. I asked Nate if he had ever seen a Snarky Puppy performance from the audience before, and he claimed it was only the second time ever.
Clearly best-attended show of the first day, but just another day at the office for Michael League – humble personally (as always), and always giving/directing the credit to the other band members (and he promoted David Crosby as the next act on the main stage).
Set List:
Tune in 3/4 – did not recognize – Mexican mariachi flare – polyrhythm hand claps during violin solo – from an early recording
Shaun Martin "Thing of Gold"
"What About Me?" – up tempo Mark Letteiri solo – Larnell solo of course (Bill Laurance and his percussionist jamming in the background)
Extended video of "What About Me?" on YouTube by CHeeSeHeaDPRoDuCTioNS: https://www.youtube.com/watch?v=0UTkDNkEBxE
Jump to 26:01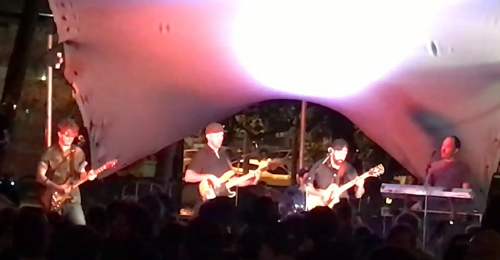 This was my first exposure to The Heavy Pets. So many genres of influence here it's hard to keep up. :-O
On the video clip, I love how the tune flows effortlessly from 4/4 into a 14/8 groove subdivided 2222 33 2222 33 (I think) for the guitar solo. :-)
Jump to 27:42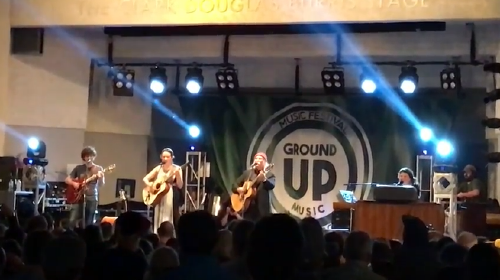 I grew up listening to David Crosby. Not The Byrds, but my parents owned just about every CSN and CSN&Y record ever produced. He didn't try to match the energy of the young bucks performing before and after him so it appears he aimed for mellow expression as his contribution. As the final performance of the first night, David Crosby performed "These are the Things We Do for Love" from his new recording on GroundUP and was joined by Esperanza Spalding on Bass/Vocals for "Look in Their Eyes"
I love the opening lyrics from CSNY "Déjà vu":
"If I had ever been here before I would probably know just what to do. Hey, don't you? If I had ever been here before on another time around the wheel. I would probably know just how to deal. With all of you"
#Poetry
When Michael League pitches late night jam session at The Deauville, he quips – "Crosby will sit in on… Coronet. ;-)"

https://twitter.com/seanfenlon/status/830253063176908800
Extended video of "Déjà vu and Woodstock" on YouTube by CHeeSeHeaDPRoDuCTioNS: https://www.youtube.com/watch?v=cmcoaF2n1lI
Late Night at The Deauville
Jump to 30:30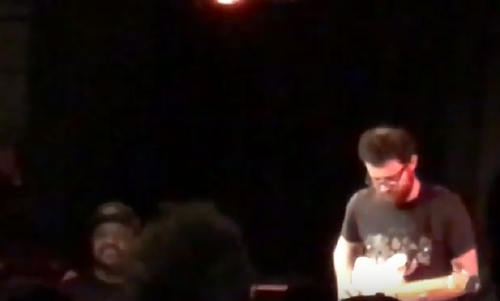 I love Bob's Scofield-esque guitar tone. He performed tracks from his upcoming solo release.
Jump to 31:34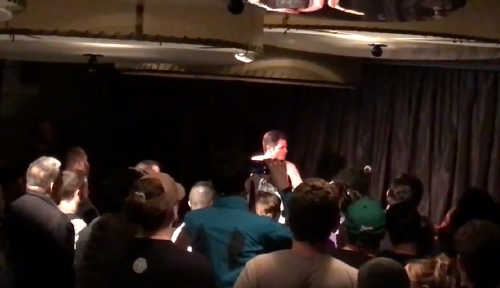 Van Halen-loving Mark rocked his solo work along with Funky Knuckles bass player Wes Stephenson.
Jump to 32:44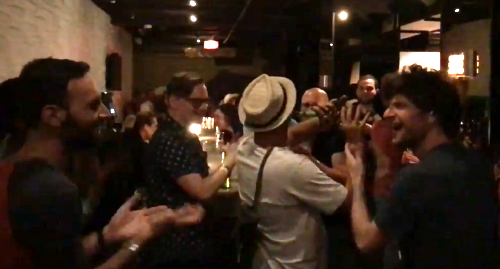 Carlos Malta Unannounced
Like the real-life Pied Piper he is, Carlos Malta launched into TWO(!) spontaneous Fife Mobs and attracted all the musicians above to join in. I contributed the "WOOOOO" at the end of the first video clip. ;-)
Jump to 35:04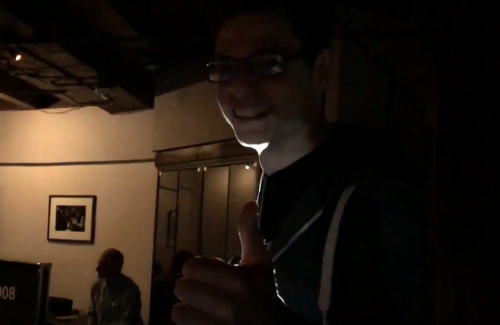 There's a long back-story to this late night performance…
Jacob was scheduled to perform Thursday night in Boston – the same day the HUGE Nor'easter snowstorm hit the area with massive accumulation of snow and ice. I know this because I was scheduled to bring several of my Boston-area business partners to his show and I was desperately trying to find a way to travel to the area under such conditions if the show were to go on. Jacob and Ben Bloomberg made it to Boston just in time to get stuck (I never made it in). Jacob made it to his festival performance in Miami Friday at 5PM, but without any of his equipment and without Ben – hence the extemporaneous jam session documented above. By 2AM, however, Ben and the gear had arrived and it was time for Jacob to present his One Man Show with Video, featuring his amazing and famous rendition of Stevie Wonder "Don't You Worry 'Bout a Thing," his solo release of "Hideaway," etc.
Since I did not secure a front row spot for recording, I focused on Ben Bloomberg's tech via iPad behind the scenes. Ben Bloomberg thumbs up – big smile. :-)
Jacob was working on 3-hours of sleep. :-O
Jacob won and accepted TWO(!) Grammy Awards on stage in LA for songs on his debut release approximately 14-hours after this late night performance in Miami. #AbsolutelyAmazing
I was too exhausted after this performance to catch the remaining 3AM performances. :-(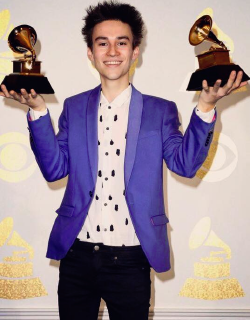 Missed – So sorry guys
Missed – So sorry guys
Roosevelt Collier & Phunk Phactory

Missed – So sorry guys
GroundUP Music Festival Day-2 (Saturday)

Jump to 37:34
Michael League – Bass
Chris McQueen – Guitar
??? – Keyboards
??? – Drum
??? – Hammond Organ – saw later in a sports coat introducing people to each other
WOW noon Saturday sure came early after that late night. :-O
Amazing female artists were well-represented at the festival, but perhaps none more captivating than Lucy Woodward. I have watched the video of Lucy on Family Dinner Volume 1 countless times, and the musical dialog between her and Michael League is just… well… captivating. Her performance at the festival had the same effect:
Before performing the song "Circus Freak," Lucy made some confessions – like being a geeky flute player with OCD growing up and having a Father that was a philosopher and a Mother that was a belly dancer. That explains a lot…
Or does it? :-)
Her performance was SO GOOD.
Sorry for the moral equivalent of the butt dial video clip before the next song.
Lucy performed "Be My Husband and I'll Be Your Wife" with Mike "Maz" Maher, which I have watched the video of on YouTube countless times.
Lucy then went on to give the audience the GIFT of performing "Too Hot to Last" – the song she performed on Family Dinner Volume 1 (mentioned above).
Jump to 41:19
Shelly Berg — Piano

What the…
This guy is the actual Dean of Frost School of Music of Miami University???
Sounding an awful lot like Michel Camillo – ON FIRE: https://youtu.be/LdEMnJ6OXjQ?t=2m50s
I can promise you this – I went through several Deans at The Peabody Institute of Music and none of them could do anything like this.
Jump to 42:42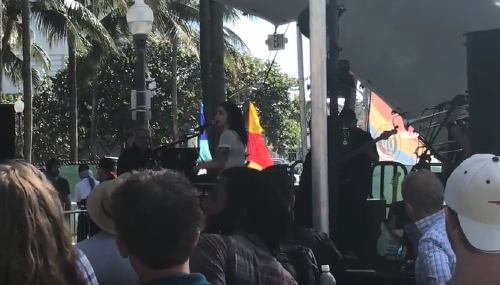 Emily Estefan

WOW. 22 year-old daughter of Gloria Estefan on vocals while performing on drums/percussion like her Mom's contemporary Sheila E. She's great. I sent her video clip to my wife Terri and she agreed.
I love that her horns section includes a bass trombone and that she performs an original tune in 7/4 to show she belongs in a festival like this. :-)
Jump to 43:17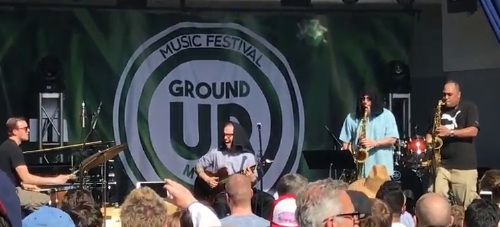 ??? – Drums
??? – Bass
??? – Tenor Sax
Jeff Coffin – Tenor Sax (special guest)
I know Charlie Hunter from Family Dinner Volume 2 – I actually appear on the same video as he does and I'm most visible during his epic guitar solo: https://youtu.be/oEU2AiIbmr4?t=2m23s  :-)
These guys had the misfortune of performing in the direct Miami afternoon sunlight, hence the black towels on the head of Charlie Hunter and Jeff Coffin and the beads of sweat dripping down the other performers.
Here's an extended video on YouTube of this performance by CHeeSeHeaDPRoDuCTioNS: https://www.youtube.com/watch?v=hx4sGZOPlF8
Jump to 46:05
Mostly watched from VIP Lounge Balcony – this is my first time learning of Electric Kif.
Jump to 47:22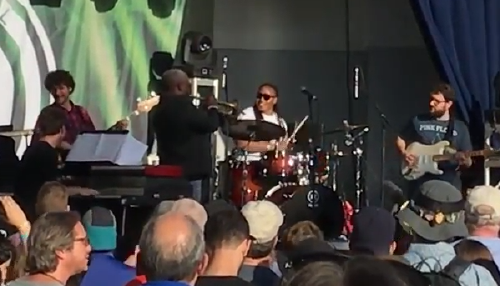 Epic extended trumpet solos through pitch-shifter and sound processors – stage presence like Miles
Michael League's and Larnell Lewis's reactions in the background after Esperanza joins and Terence takes a solo.
Extended video Terence Blanchard with special guest Esperanza Spalding on YouTube by CHeeSeHeaDPRoDuCTioNS: https://www.youtube.com/watch?v=MTT3_Mguc9U
Jump to 51:56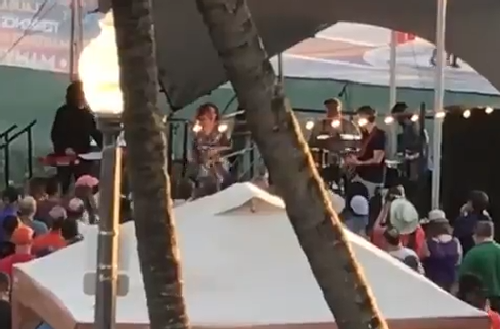 Chris McQueen – Guitar
??? – Bass
??? – Keyboard
??? – Drums
Super-funky R&B – Incredible energy and stage presence – Hammond Organ Patch on Nord Synth — would love to have seen a Hammond B3 on the Park Stage with TWO Leslie Speakers instead. :-)
Jump to 53:01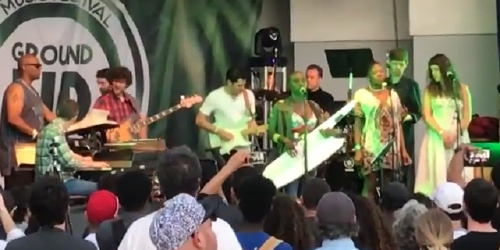 I know Laura Mvula from Family Dinner Volume 2. She performed "Sing to the Moon"
Every song filled with vocal harmonies and laid back synth pad textures – nothing hard-driving… Like the female, young, UK-black, cosmopolitan, synth-pad version of David Crosby. ;-)
BTW, Jacob Collier once told me in person that he's a HUGE fan of Laura Mvula. :-)
Jump to 53:41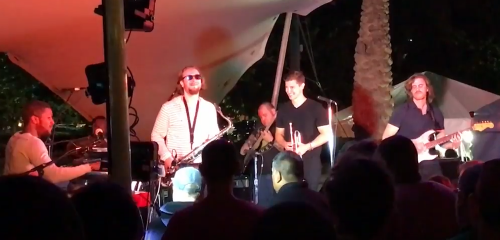 Caleb Sean McCampbell – Keyboards (and Vocals-ish)
Wes Stephenson – Bass
Cedric Moore – Drums
Phill Aelony – Guitar
Ben Bohorquez – Tenor Saxophone
Evan Weiss – Trumpet
??? – Alto Saxophone (special guest)
Dangerously funky fusion band. :-O
Vocoder synth solo (NOTE: Vocoder is a synthesizer, what Jacob Collier uses is a new invention by Ben Bloomberg and they call it "The Harmonizer" – very different – Harmonizer is more of real-time sampler than a synth)
Caleb Sean McCampbell is yet ANOTHER charismatic CEO band leader :-)
As tight as Snarky Puppy but with without the accessible melodies and textures.
My kind of high-octane jam band, but probably not my wife's. ;-)
Jump to 57:24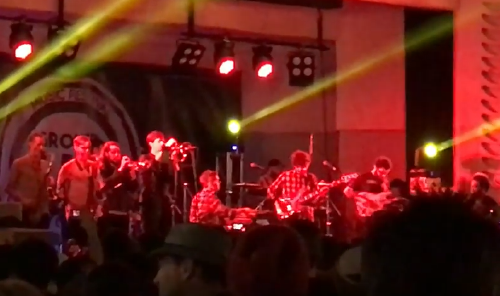 Snarky Puppy – 2nd Night
Set List
Binky (Jay Jennings Fluglehorn Soloist – Mike "Maz" Maher on original recording)
???
???
Young Stuff
Tio Macaco (featuring Nate Werth (it was his birthday) and Pedrito Martinez as a special guest)
Quarter Master (Coda – Double-time New Orleans March)
Jump to 1:02:35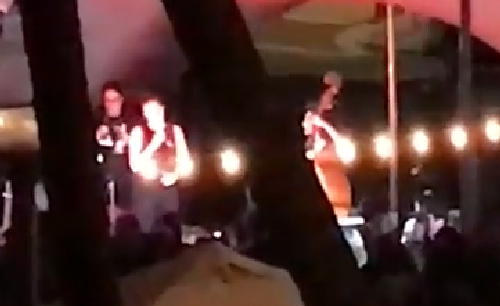 Esperanza Spalding (& Becca Stevens as special guest)
A sorta songwriting workshop/performance. Didn't quite pull it off IMHO as compared to just having these two amazing musical talents perform some pre-existing songs together. :-S
Please forgive the lack of closeups — I remained indulged in a lounge chair in the VIP balcony for this one. :-)
Jump to 1:04:34
Pedrito Martinez – Percussion/Vocals
??? – Keyboards
??? – Percussion
??? – Bass/Vocals
Amazing/powerful Miami-based Conga/Percussionist/Vocalist
Late Night #2 – at The Deauville

Jump to 1:06:46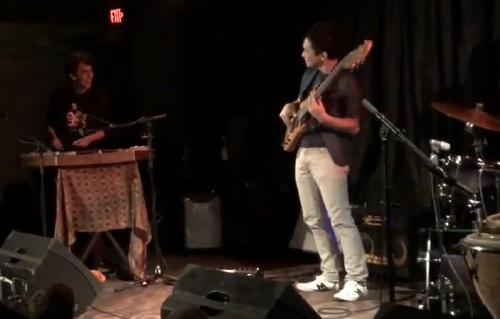 More bass solos that I actually loved from Moto Fukushima and his 6-string Bass.
The group was joined by percussionists Jamey Haddad and Marcelo Woloski and Violinist Zach Broch as special guests at the end.
Jump to 1:13:22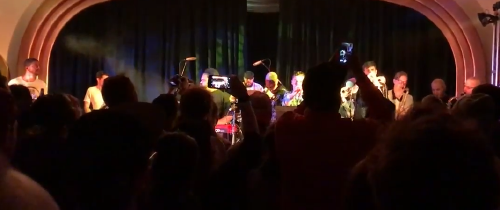 The video clips speak for themselves – perhaps the funkiest/grooviest music (in 4/4) of the entire festival.
Concluding Observations

There was a noticeable lack of 40-somethings in attendance (I'm 42… +6) – but heavy on 20-somethings, 30-somethings, and Seniors. Please someone explain that one to me. :-S
With the 20- and 30-somethings, it was a celebration of beards for men and hair for women :-O
The pace and endurance required reminded me of a multi-day tradeshow – well over 20,000 Fitbit steps achieved each day :-O
Perhaps the biggest thrill was watching the other artists listen to the other artists :-)
Odd meters are here to stay. The best musicians, composers, and songwriters simply find them irresistible. :-)
I wanted this trip to be all about the music, so I deliberately took no pics with other guests/artists and no selfies except this one below from the hammocks located in between the Bandshell main stage and the Park Stage: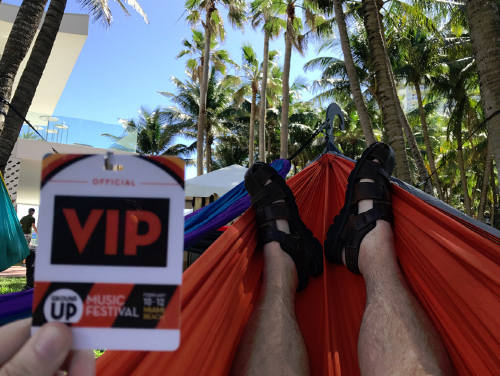 I was ALL-IN :-)
SPF
Other Links

p.s. if anyone can help me with the ??? question marks or recommends other links associated with festival, please do in the comments. Thanks in advance.
---